Choosing the appropriate siding for your mobile home is highly essential. It will protect your house from adverse weather and fire, water, and even insects. So, which is the best type of siding for your home?
Vinyl is the perfect choice for all types of mobile homes. It is cost-effective, easily available, and is built to last long. The best part about vinyl siding is that you can install it yourself. Yet another choice to make is its type. Which one should you choose?
Do not worry, as this article will take you through the best vinyl siding for mobile homes. Additionally, the complete buying guide will inform you about its advantages and disadvantages, along with pricing and installation.
The 3 Best Vinyl Siding for Mobile Homes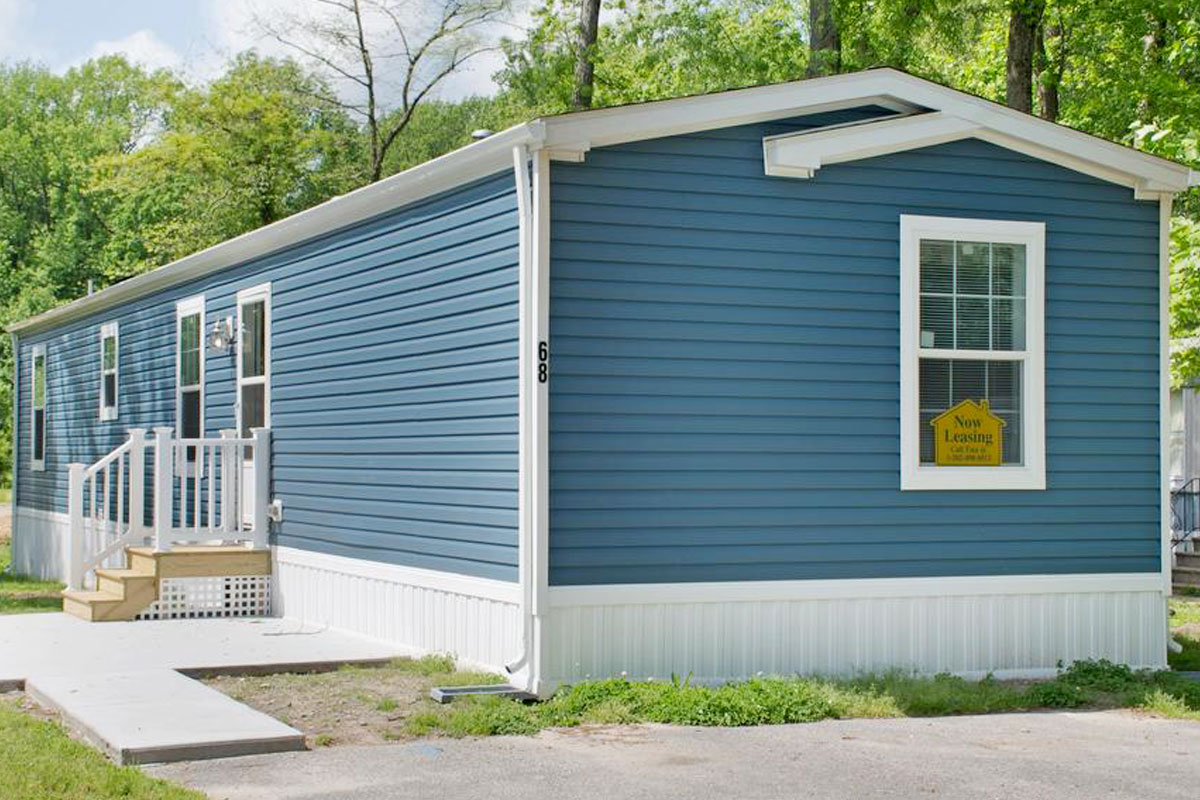 1. Harbour Crest™ Triple 3 Lap Vinyl Siding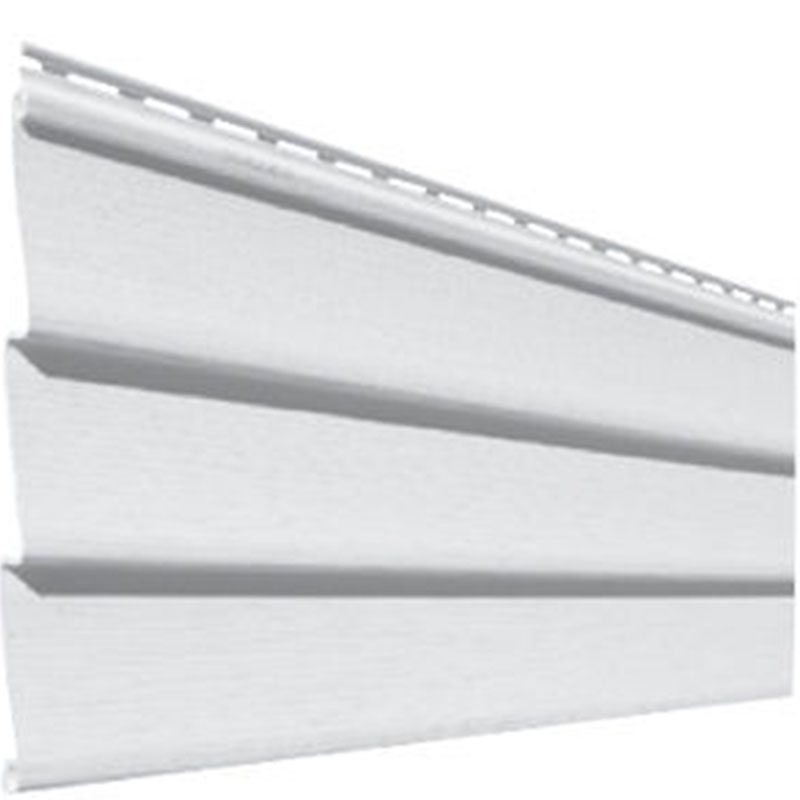 The Triple 3 Lap vinyl siding is made with quality material to protect your mobile home from harsh weather conditions. Despite hailing, snow, humidity, and heat, it will stay intact without dents and fading.
Houses often get attacked by wood-boring insects in corners. Not if they have the Harbour Crest vinyl siding. It prevents damage caused by various insects, fungus, and even mildew. Additionally, you will never need to paint it.
Harbour Crest Triple 3 siding has a wood grain surface that is deeply embossed. It not only elevates your mobile home's look but also makes it stand out from others. Moreover, it comes with a secure positive locking system for extra protection.
2. Harbour Crest™ Double 4.5 Dutch Lap Vinyl Siding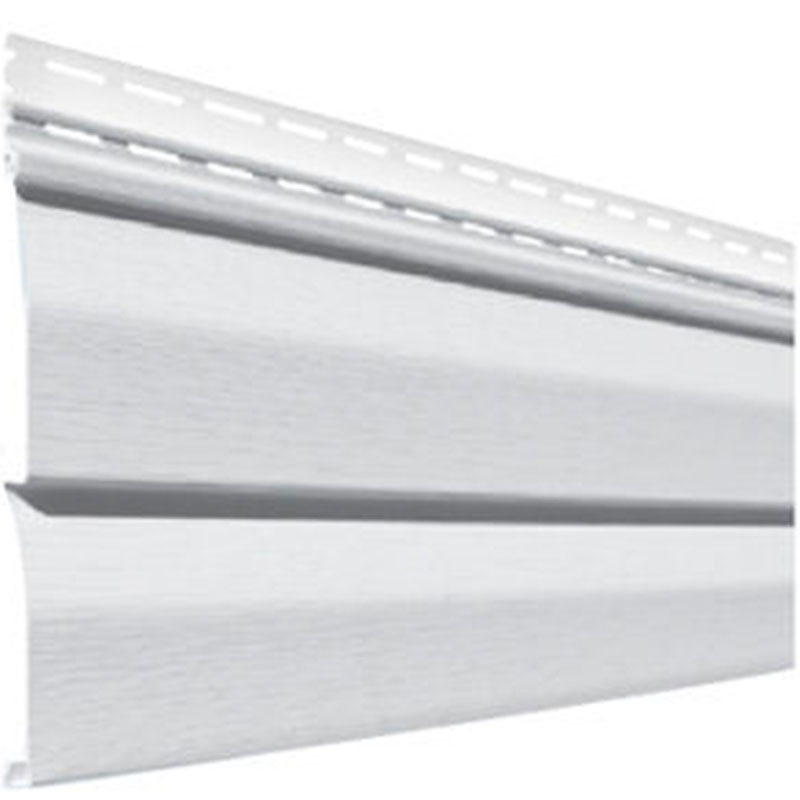 The Dutch Lap siding is exquisite in its way, and the one offered by Harbour Crest doubles the beauty. It comes with two strips that are 4.5 inches each in length. Its deep embossed wood grain surface gives an aesthetic look and the perfect finish to your mobile home.
The Dutch Lap vinyl siding is highly durable when it comes to bearing hails or scratches. So if you live in an area with adverse weather, it is perfect for you.
The siding is immune to insects and fungus, adding to the prolonged life of your mobile home. The best part is that it provides a secure positive locking system for you and your family to stay safe.
3. Harbour Crest™ Full Vent Vinyl Soffit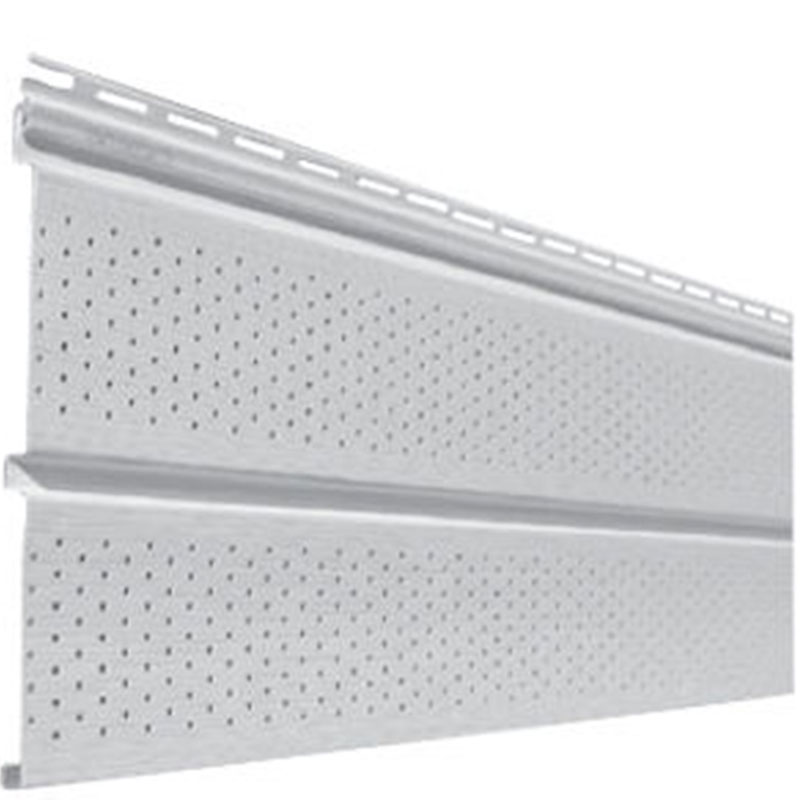 Why opt for a vented soffit? The Harbour Crest Full Vent vinyl soffit will prevent the occurring of condensation on your walls. The fully ventilated siding will protect your mobile home from ice build-up, mildew, and mold formation.
The Harbour Crest Vent soffit is designed to have a matte finish with white, low luster. It is all you need to make your mobile home stunning.
Apart from the durability and looks, this vinyl soffit offers maximum security. It comes with a positive locking system to keep you safe at all times. That is not all. The soffit has a lifetime limited warranty, so you can rest assured of its replacement.
Buying Guide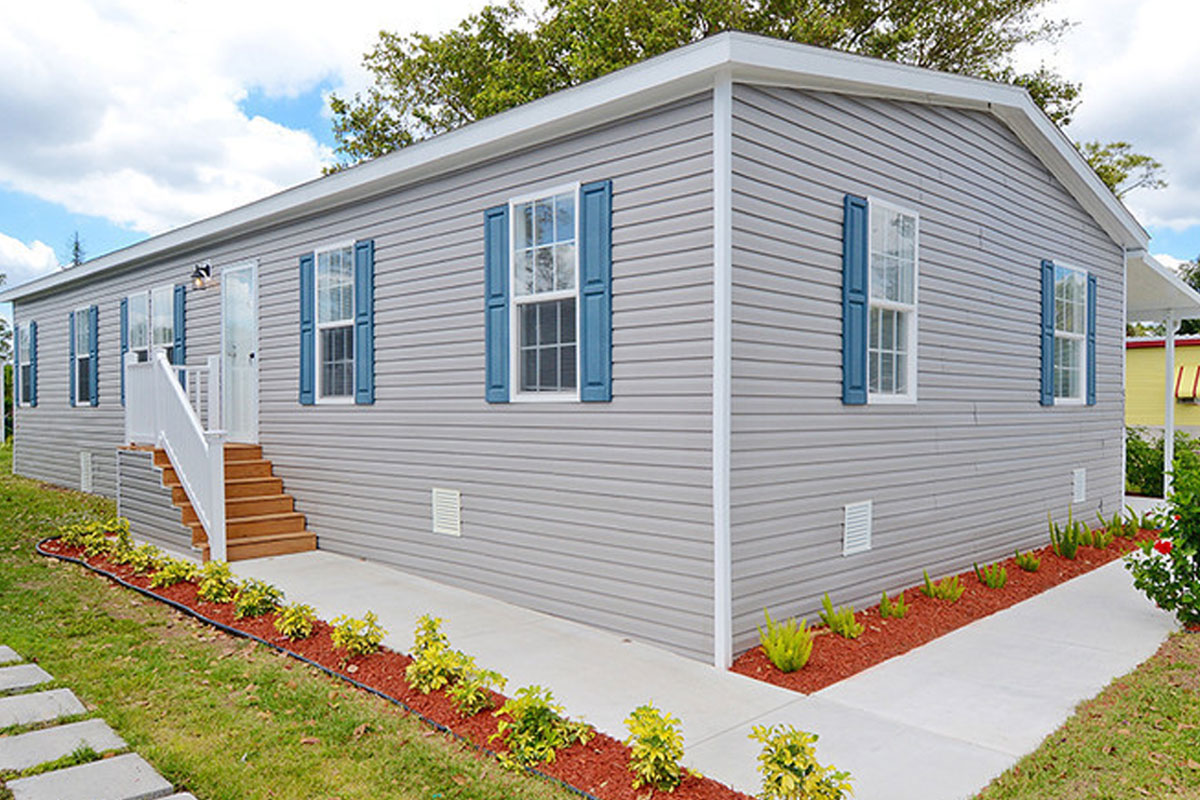 You may have several questions while choosing the best vinyl siding for your mobile home. This complete buying guide is here to provide all the answers. So why choose a vinyl siding out of all?
Advantages of Vinyl Siding
Vinyl siding is famous and widely available due to the exceeding number of benefits that it offers. Let us have a look at some of its prime advantages.
All you need is a damp cloth, and you can clean the vinyl house siding within a few minutes. What can be better than having the power of fixing your house sidings without any extra costs! It enhances the durability of this housing material.
Do you live in an area where the weather conditions are always unpredictable? Vinyl siding can easily bear hailing, snow, and high temperatures without getting affected. Furthermore, it is scratch-proof and dent-free.
Not only humans but even housing materials also require a strong immunity, and vinyl can guarantee that. Once you get this siding, you can stay assured that wood-boring insects and fungus will not ruin your house. Moreover, it is immune to mildew and rotting.
You may have to get your walls painted to maintain its look. Not if you get vinyl siding. The material is fade-free and never requires repainting. What's more? It comes in emboss grain texture to add a beautiful touch to your mobile home.
Mobile houses are highly prone to strong winds and hurricanes. However, it is not so if you get vinyl siding that can bear a wind speed of 110 mph. Yet, it is not too heavy as 100 square feet of the material only weighs 60-70 pounds. Thus, it is great for mobile homes.
Disadvantages of Vinyl Siding
Despite the numerous benefits, vinyl siding also has a few downsides. Some people may not prefer the material due to its synthetic look.
This type of siding cannot withstand too high temperatures. It may melt or distort if it stays under the direct rays of the sun for too long. Alternatively, too low temperatures may cause the material to crack. Adding awnings can be a solution to this problem.
Though you can install it yourself, it will require a technique for accurate positioning. The siding should be placed loose enough such that it can expand and contract without much problem.
At the same time, it should be tight and stable to resist strong winds.
Additionally, make sure that the space between the wall and the siding does not allow water to seep in. It can cause damage to the wood as well as the insulation system.
Installation issues can be dealt with by seeking the help of a professional.
Price of Vinyl Siding
The cost of getting siding material for your mobile home may depend on various aspects, especially the amount required. From Dutch Lap to Clapboard and Beaded to Vertical, vinyl siding comes in a plethora of designs. Each of these designs has distinctive qualities and prices.
Apart from that, the pricing of vinyl siding may highly depend on the brand. However, most of the brands offer the standard size for $220-$270. Here are the two main aspects that determine the prices of vinyl siding.
Quality: Vinyl may be virgin or recycled. Though the latter is eco-friendly and cheaper, it may be prone to cracks and distortion. At the same time, the virgin one comes with superb quality as well as durability. However, thicker vinyl is the best option but also the priciest.
Size: The standard dimensions of vinyl siding are 9-12 inches in height and 12 feet in length. Additionally, the material comes in a case of 16-22 pieces each that can cover a total of 200 square feet.
The ideal vinyl siding that is 10 inches high and 12 feet long will cost around $235-$265 for 200 sqft. It makes the standard pricing to about $1.3-$1.6 per square feet.
How to Install Vinyl Siding on a Mobile Home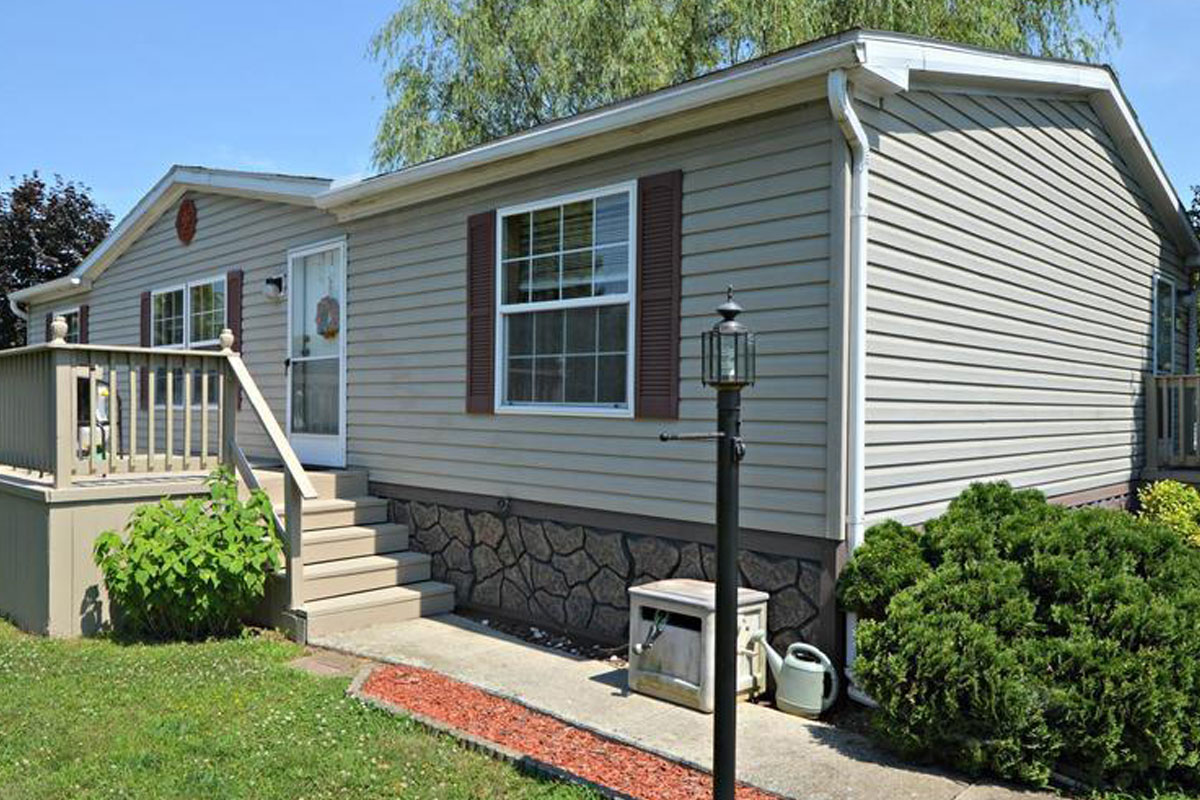 The prime advantage of vinyl siding is that you can install it all by yourself. You do not need to spend extra money on hiring a professional. Here's a list of the equipment that you will require.
Hammer
Insulation material
Screws
Vinyl plates
Metal fittings
Measuring tape
Drilling machine
Nails
Table saw
Caulk and gun
Corner Posts
Once you have all the requirements ready, you can get to the exciting part of the installation. Here's a step-by-step answer to how to install vinyl siding on a mobile home.
First of all, measure and note down your mobile home's dimensions to determine the material required.
Before placing the vinyl siding, cover the exterior of the house with suitable insulation. Next, wrap a sheet of wind paper for further protection. It will prevent all sorts of damage that may occur in case the siding comes off.
Fix the vertical posts on each corner of the house with galvanized nails. Fasten it with a hammer.
Place the curved metal siding around the windows and door frames. Fix a metal plate along the bottom of each side of the home. It will help the material to settle.
Start installing the vinyl siding from the bottom while overlapping each piece by one inch. You may need to cut and adjust a few pieces so that they can fit properly. Use a table saw for this purpose.
You must make sure that you neatly place the material's ends and corners under the metal fittings. The same goes for the vertical posts.
Once you are done with the sides, add an extra post at the corners with screws and drill. Lastly, make holes for electrical outlets (if required) with a jigsaw and add caulk around this area.
Viola! Your vinyl siding installation is complete.
Conclusion
Whether you have a mobile home or a site-built one, opting for vinyl siding is a wise decision. It will not only last long, but it's beautiful colors and the wood-grain surface will also make the building look attractive. It is highly affordable and delivers superior value for money.
What's more? You can install vinyl siding all by yourself! However, you must make sure that you opt for the virgin material as it is stronger. Furthermore, add small holes at the bottom of the material to let water drain instead of accumulating.
Once you install, you can enjoy the benefits of vinyl siding for years to come!