If you are looking for the right new mobile home windows or replacing old ones, understanding the specifications is important.
Replacement of windows might also become necessary in case your windows require frequent repair. Constant expenditure on maintenance can be a drain that you should avoid by investing in sturdier window designs.
Moreover, adding some upgraded features is a great home improvement project for increasing your property's value.
This article will review some of the best mobile home windows and guide you through the buying process.
The 5 Best Mobile Home Windows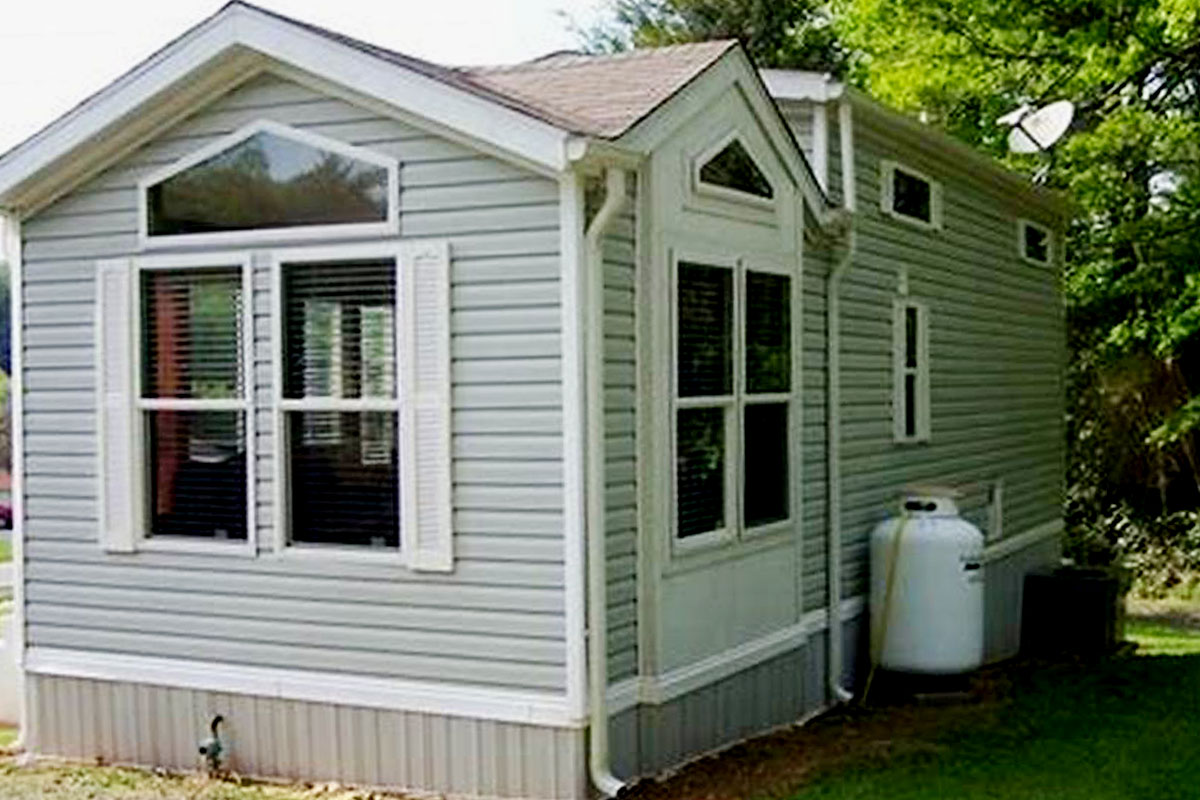 1. Kinro 30″ x 27″ Vinyl Vertical Sliding Window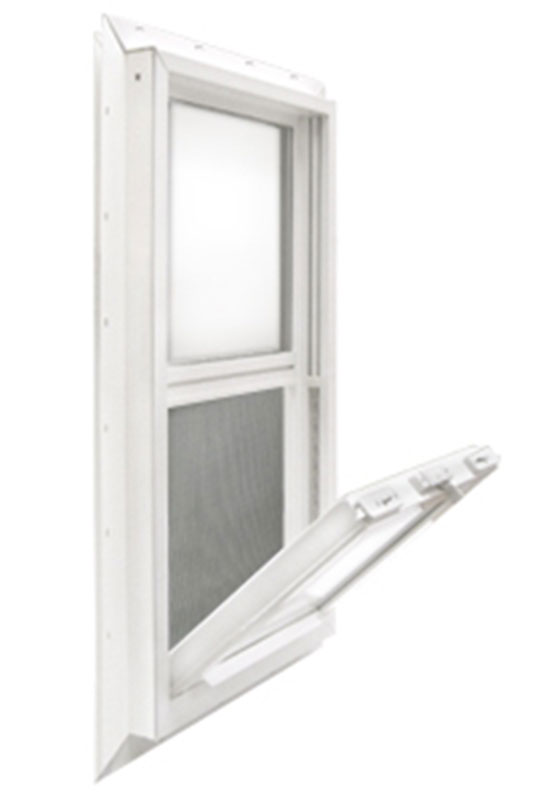 This is a sleek vinyl constructed window that promises high thermal protection. The frame and sash corners are welded to deliver a water-tight finish and greater sturdiness. Not to mention, the design is weather-resistant thanks to the deep pocket sill. The reinforcement bars in the meeting rails further add to its durability.
With a spiral balance system, this window has an easy and convenient sash operation. You won't have to worry about jammed windows given its efficiency. The frame design is also energy efficient with several hollow areas that reinforce its strength.
The bottom window panel can be easily removed for cleaning and maintenance. An easy cleaning procedure ensures that you won't need to spend money on the repair continually.
For your security, this window has a positive integral lock. This feature adds to the weather resistance operations of the window. The dual weather seal further enhances energy efficiency and reduces unwanted drafts.
2. Kinro 30″ x 54″ Vinyl Vertical Sliding Window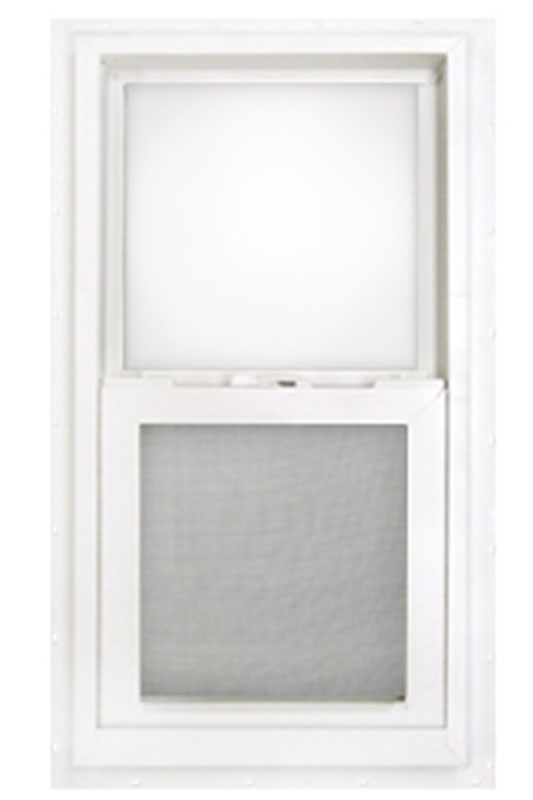 If you're looking for a smart design, then this vinyl window is a good pick. It has several energy-efficient features that ensure its high thermal performance. One such design feature includes the multiple hollow areas that give the frame strength and also help preserve energy.
The frame and sash corners are welded to keep the window water-tight and your homes dry in adverse weather conditions. The deep pocket sill adds to weather resistance in cases like storms and gales. Not to mention, both these features add to the strength of the window frame for longevity.
The dual weather seal is another advantageous mechanism that will keep your home's energy-efficient and protected on windy days.
This single hung window also has a spiral balance system that lets you open the sash with ease. Not only are there no hassles in its operations, but the cleaning is easy.
The bottom window sash can be conveniently removed for maintenance purposes as you please. Thanks to the easy installation, you can cut down on excess expenditure for mounting.
Finally, this window comes with reinforcement bars for your protection. The positive integral lock ensures your security as well.
3. Kinro 30″ x 40″ Vinyl Vertical Slider Window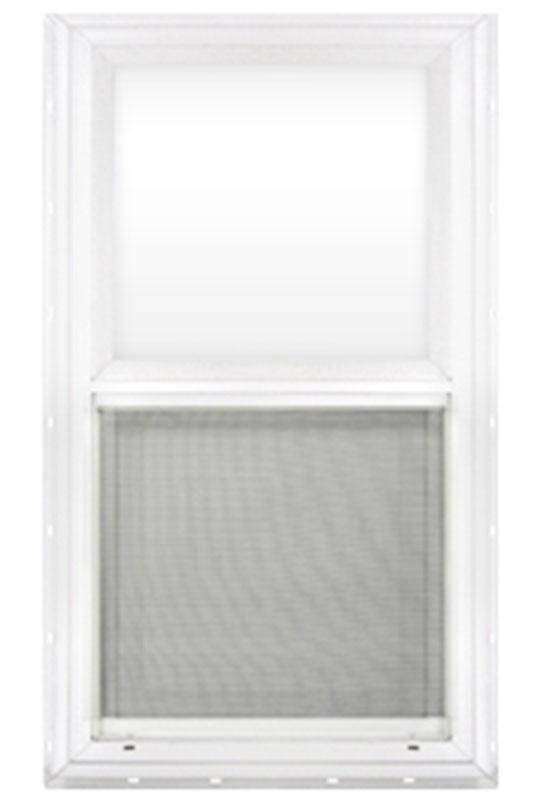 You can save on energy and ensure your security with this single hung window. The vinyl material is a popular pick that adds to thermal protection. Additionally, insulating glass is a good way to make the energy of your home efficient.
The frame of this window is welded to give the structure complete durability. The sash corners are similarly welded to ensure a water-tight construction. As a result, this window is designed to be effective in all weather conditions. The deep pocket sill is another feature that ensures weather resistance as well as enhanced sturdiness.
Thanks to the spiral balance system, the sash operation of this window is effortless and smooth. The entire frame is built in a modern way to add to the smartness of your homes. The multiple hollow areas on the frame are intuitively built to add to its strength and ensure energy efficiency.
You can easily remove the bottom window sash for a quick clean. Not only can you ensure regular maintenance this way, but the installation procedure for this window is simple. This means that you can save on repair and management costs with this convenient design.
Lastly, you won't need to worry about your homes' security, thanks to the reinforcement bars on this window. The positive integral lock also secures your home against any intruders as well as against calamitous weather.
4. Kinro 30″ x 40″ Aluminum Vertical Sliding Window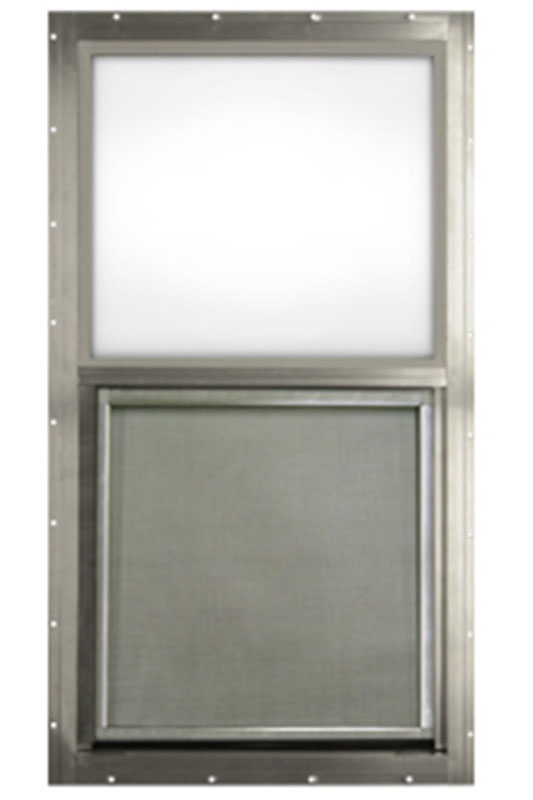 This exterior vertical slider window is a smart and effective design for modern mobile homes. This window is part of the Kinro Series 18000 and has an alluring aluminum design that will upgrade any home.
This window comes with a unique aluminum self-storing interior storm window design, thanks to Kinro's dual-wall concept. As a result, this window is built to ensure minimum energy-waste.
Your houses will remain warm during winter and cool during summer. Not to mention, you will save on electricity costs, in the long run, thanks to the protective structure.
In addition, the aluminum frame is mill finished for added visual appeal. The interlocking rails promise greater security to give your homes the maximum safety. In addition to security, the overall window sash operations are top-notch thanks to the nylon glides.
This window is also effective against adverse weather. It has high-quality pile weather stripping at the sash head and jambs. This ensures weather resistance in combination with the soft vinyl bulb gasket for greater weather sealing.
Moreover, the sloped sill, as well as the bigger built-in weep holes, are useful for better drainage in rainy conditions.
The screen on this window is removable to allow for easy maintenance. You can also save money with the easy installation procedure of this window. Furthermore, it is compliant with HUD and AAMA guidelines for your safety.
5. Kinro 30″ x 54″ Aluminum Vertical Sliding Window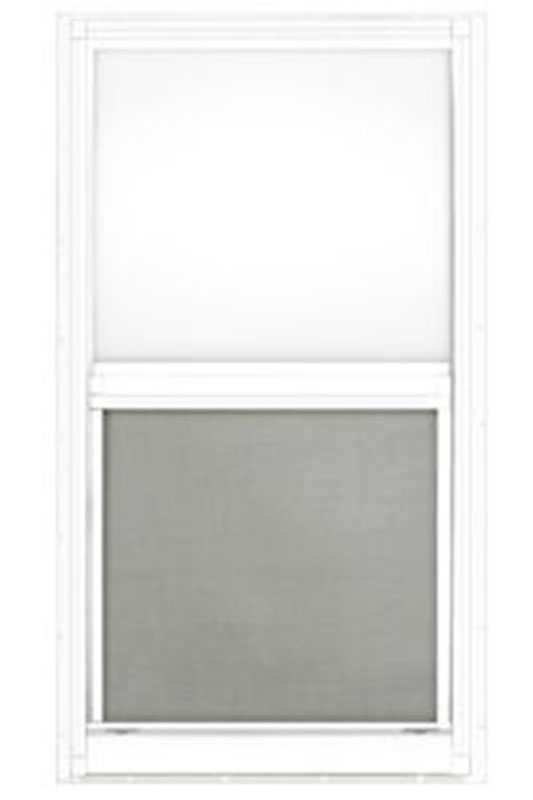 This is an intuitively designed exterior vertical sliding window from the Kinro Series 18000. It is built with aluminum for sleekness and strength. The dual-wall concept by Kinro ensures an aluminum exterior window that also has an aluminum-made self-storing interior storm window design.
This combined structure of the window is effective for energy-efficiency as well as weather resistance. If you are looking to upgrade your homes to save later, this window will help cut down on electricity bills.
The aluminum frame is painted white to suit your aesthetic preference. The interlocking rails are placed to give the window additional sturdiness and longevity.
The structural integrity is further enhanced with the nylon glides that make window sash operations seamless. Moreover, the jambs are notched to let you open the window at several positions, with the help of spring latches.
This window also has high-quality pile weather stripping at the sash head and jambs. This gives your home protection from adverse weather conditions.
The soft vinyl bulb gasket is another feature that adds to weather resistance. Not to mention, you can expect easy drainage given the sloped sill and large weep holes on this window.
The maintenance and installation procedures are also simple. The pre-punched flush mount flange helps with DIY installation and saving on the mounting procedure. The removable screen of the window allows for easy and timely cleaning and regular management.
Finally, this window is designed to be HUD and AAMA compliant to give you the greatest security.
Buying Guide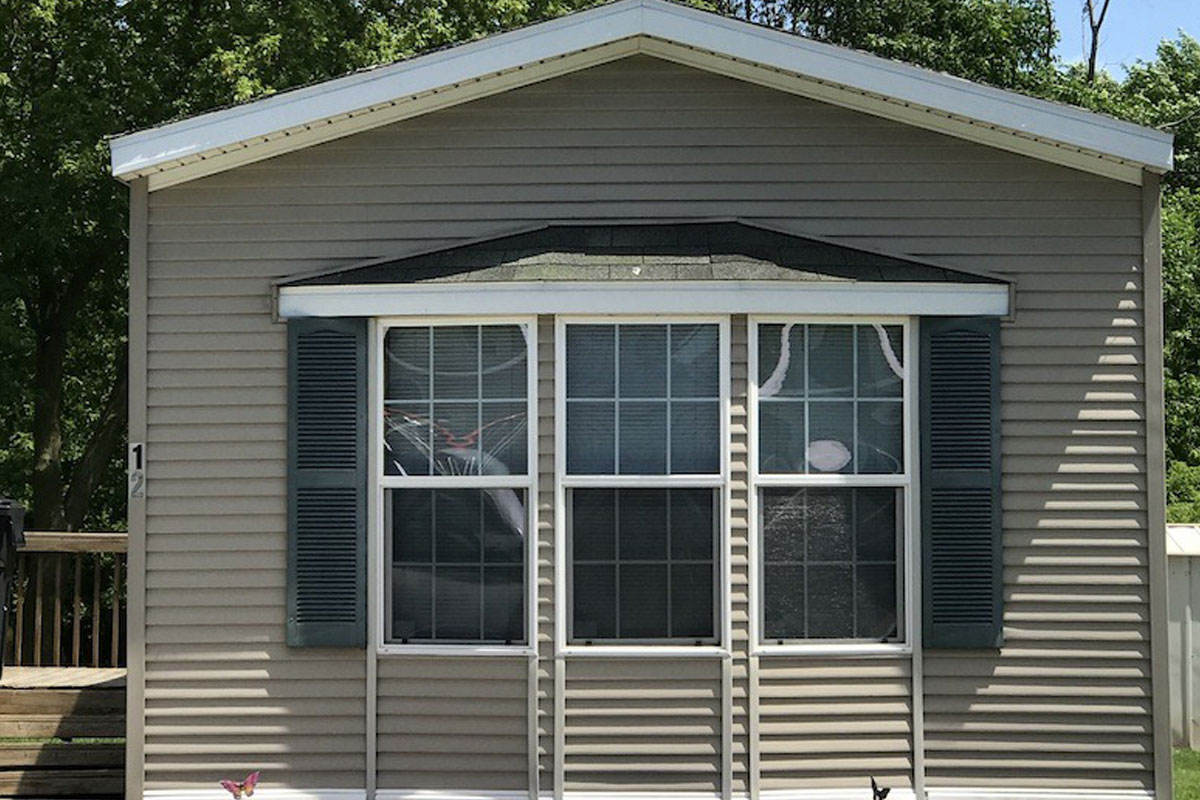 There are multiple different types of windows that you can pick from for aesthetic and practical purposes. Any window style that you pick should be available in the right sizes for your mobile home.
Types of Mobile Home Windows
Always check that the type of window you pick out is effectively built for your situation. You should consider factors like weather conditions, pricing, energy conservation requirements, visual appeal, and so on.
These windows are designed for convenience. They are built with one glass panel that can be opened outward by pushing at the bottom. Awning windows are a great pick for rainy areas since you can open them without getting any rain inside. Additionally, they keep your homes well ventilated in any weather condition.
Casement windows are simply designed and popular among homeowners. Casement windows have a single glass pane that can be opened outwards. If you have space, you can add two casement windows adjacently for a more wholesome look.
These windows are much preferred by those who live in coastal areas. They are conveniently built to allow greater ventilation. The design includes multiple glasses or metal slats. These slats can be controlled from the inside to remain open or closed.
If you have longer wall space available, slider windows are a convenient and modern option. The frame will come with 2 window panels that horizontally slide over one another. You can thus open and close them without any hassles. Another advantage of this design is that you can adjust how much you want to keep the window open.
Double & Single Hung windows
Single hung windows are another commonly used design. They consist of one hung window that has a bottom panel that opens by moving up and down. These windows allow for adequate air circulation in your homes and are easy to operate.
Double hung windows follow a similar design, but the top panel can also be adjusted. 2 adjustable panels allow you greater ventilation options with the same convenience as single hung windows.
Window Frame Materials for Mobile Home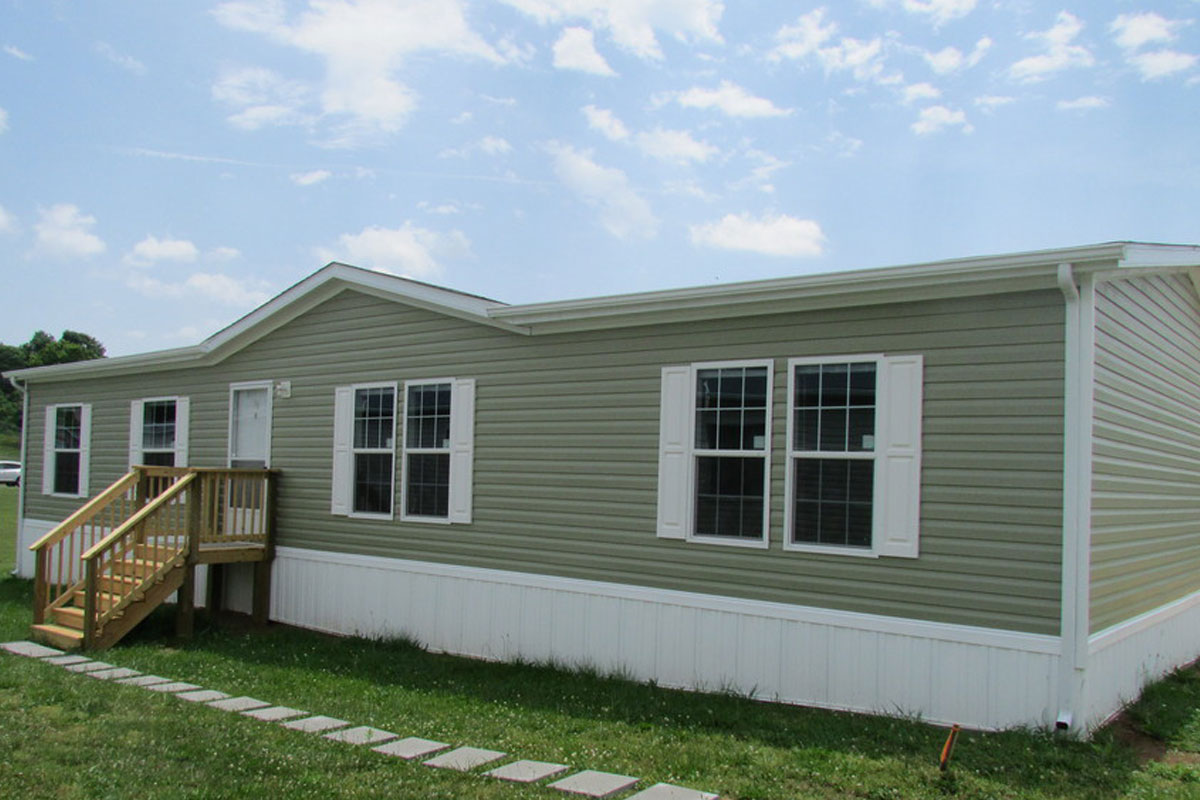 Vinyl and aluminum are the most commonly used materials for mobile home window construction. Vinyl is the most popular pick, but both choices are highly durable to give you long-lasting windows.
Vinyl is a great choice for material because it is sturdy, affordable, and has greater longevity. You can also avail of multiple color options in vinyl windows. The most preferred color in vinyl is white, and the material is effective for preventing heat loss. Thus, you can make your homes more energy efficient and save on your electricity bill.
In recent years, aluminum windows have gained popularity. Homeowners prefer the material since it is cost-effective and adds durability to the window frame. Aluminum windows are preferred by many since they create an air-tight seal within your homes.
One downside to aluminum as a material is that it doesn't excel in thermal protection. Additionally, aluminum-made windows are not the best choice if you are looking for visual appeal.
How to Measure the Mobile Home Window?
For an accurate measurement of your mobile home window, take measurements from the inside the house. You will have to measure the length from the window header to the sill. Then, from one side to the other side, measure the width of the window.
Note that you cannot measure the window frame for this purpose. That is, you cannot measure from the outside to get the right dimensions. The rough opening can be measured to get the most accurate sizing.
Keep in mind that mobile home windows are usually built-in standard sizes, and thus measurements are important. While buying a new window, pick the size closest to your measurements even if the size is not exact.
In case you have any queries, refer to the supplier or manufacturer for a better idea. Windows that are a little small might require installation with wood shims.
How to Replace a Mobile Home Window?
DIY replacement of your mobile home window is a 30-minute procedure that can save you money.
To get started, you will require the following tools.
Power drill
Quarter-inch hex head bit
Caulking gun
A level
Sealant caulk
One and a half-inch hex head screw
Before starting the installation procedure, ensure that mounting surfaces are clean. Securely fasten the surfaces flatly around the rough opening.
Firstly, apply a continuous layer of a one-quarter inch of sealant caulk on the back of the mounting flange. Ensure that the layer of sealant caulk is lined up with the pre-punched holes on the flange.
Next, mount the window in the rough opening before the sealant layer dries. The window sill should rest on the rough opening sill. In case the rough opening sill is not square, you might require wood shims.
You will have to center the window from left to right without removing it from the rough opening sill.
Before applying screws, ensure that the window is flat. Then begin by applying a screw in the center of one of the frame jambs mounting flanges.
Go on to apply the rest of the screws in the given order. Place them in the center of the opposite frame jamb, the center of the head, and the center of the sill.
Once the screws are fixed, check that the window is centered from side to side. Make sure that the window also works properly. If the window is not operating correctly, you might need to remove and reinstall it.
Finally, install the remaining screws by starting from the center and moving to the frame's corners. Note that you should not overdrive the screws to prevent any damage to the frame.
How Do I Choose the Best Mobile Home Replacement Window?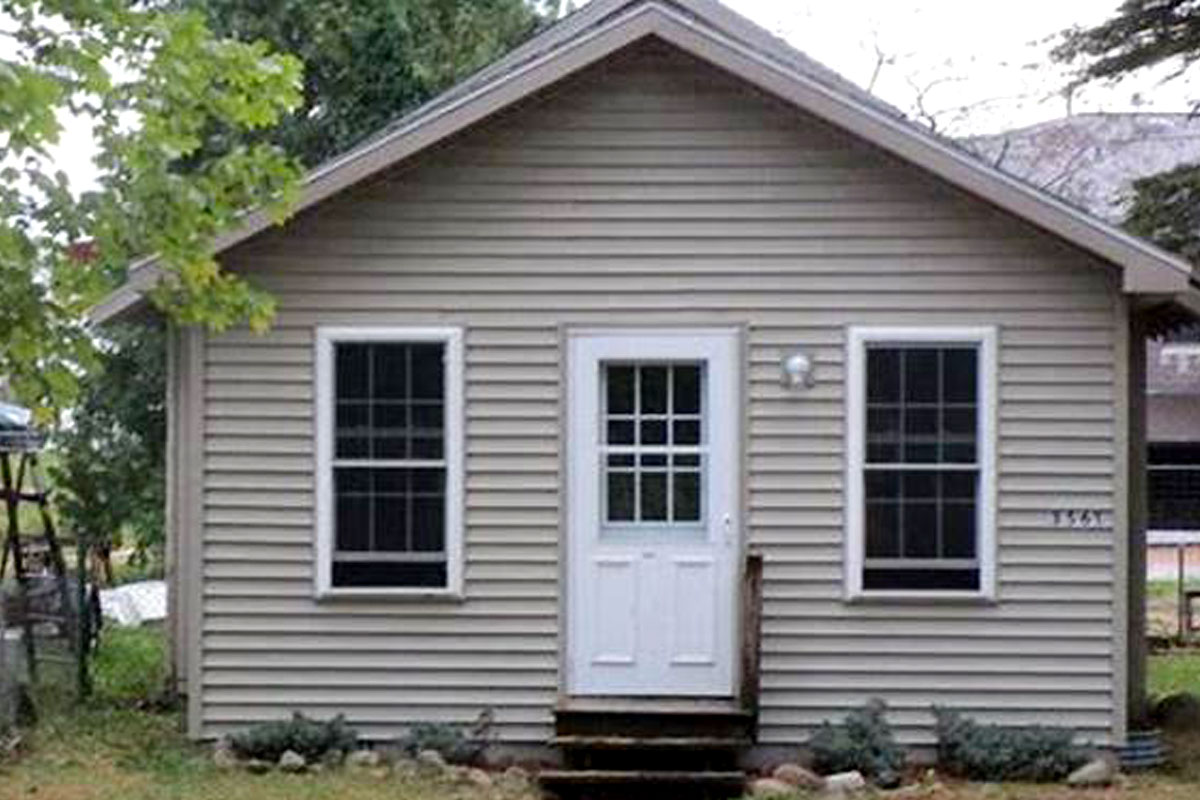 Windows for mobile homes come in a variety of styles to suit your convenience. New styles can also add to the visual appeal of your mobile home.
Whether you are buying a new window or replacing an old one, the right size is important. A good fitting will give your home a smarter look and be more secure. If you want a larger or smaller size, consult an expert to check if it is possible.
The installation method of your mobile home window might require mounting for lap-siding or flush mounting. It is recommended that you choose a window with a compatible installation procedure, especially for replacing old windows.
The hole in your mobile home where the window is meant to go is the opening. The conventional opening shape is square. An opening that is not square might restrict your choices for window styles. If there are sizing issues, you might have to make use of shims. In case of bigger fitting issues, you might have to remake the frame altogether.
As per safety codes, your window should fit certain size requirements. These are meant to ensure your security if you have to escape when there is a fire or other emergencies.
Conclusion
Once you know how to choose the right window, picking out a mobile home window will be a breeze. You can finalize the best style for your home after you have taken accurate measurements. With the help of our guide and installation briefing, you can even save money by doing it yourself.
A new window for your mobile home is sure to set a good impression and add to your investment. Usually, this is not a lengthy procedure and can be done without any hassles. List down your requirements and then go for the right choice. You can look into some of our recommended mobile home windows for a satisfying purchase.