You can replace your mobile home's exterior door within a reasonable budget to suit your decorative purposes. With the right door choice, you can also add to the security and energy-efficiency of your home. Doors that come with an easy installation are a good way to save on excess expenditure.
This article will help you find the perfect exterior door for your mobile home that ticks all the boxes. Read on!
The 5 Best Mobile Home Exterior Doors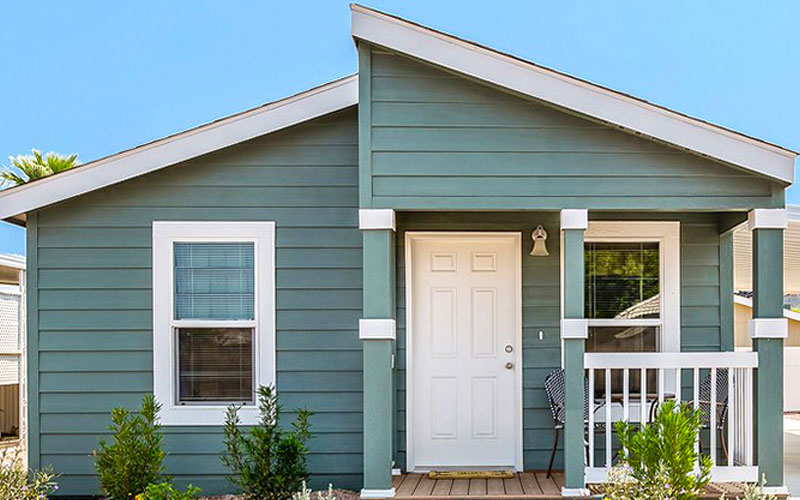 1. Six Panel Steel Combination Exterior Door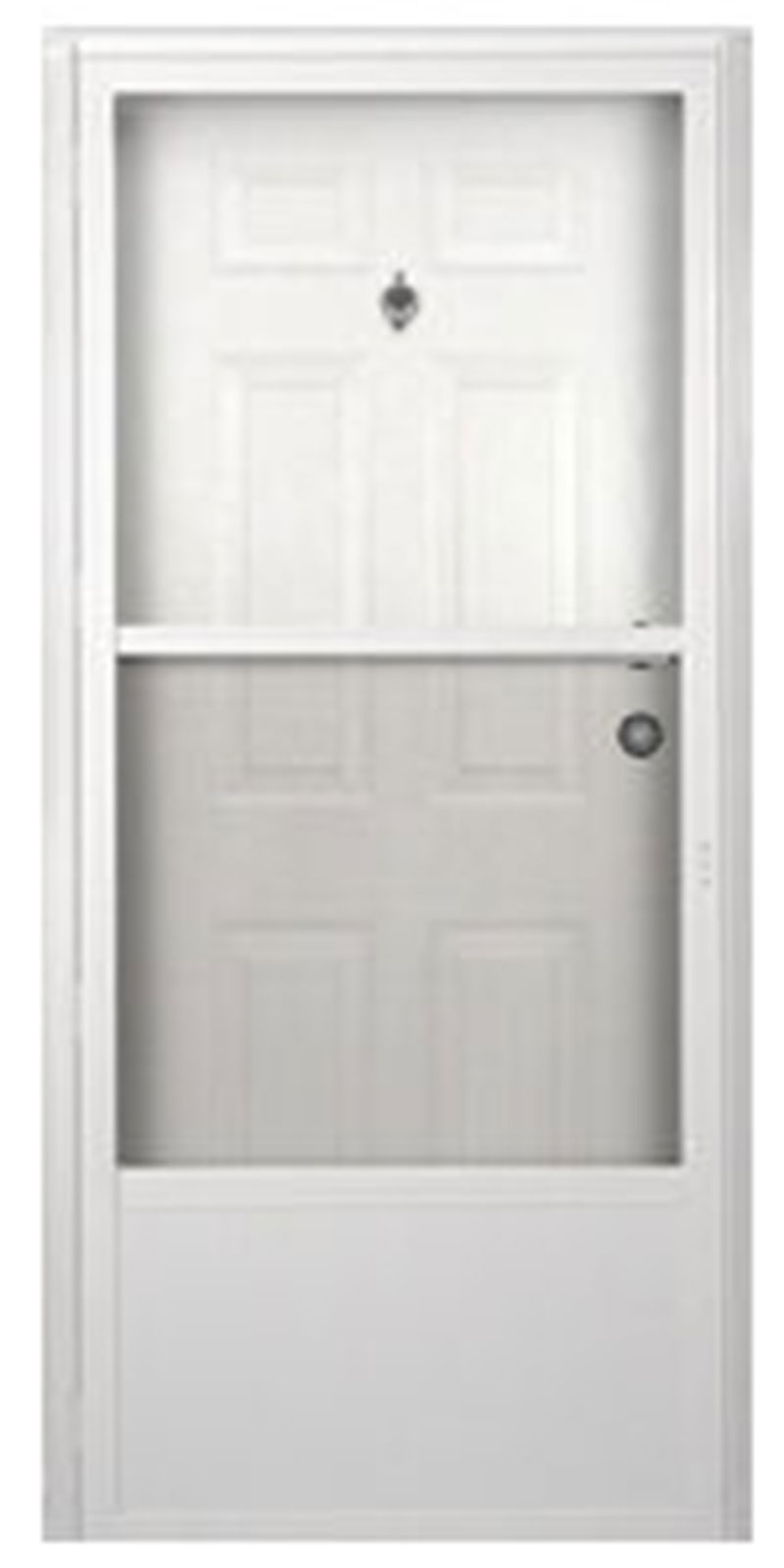 This door comes with a vinyl lamination and galvanized steel finish. The jambs are painted and made of high-quality solid pine, available in both 4 and 6-inch options.
You won't have to worry about weathering since this door is protected against water, light, and air damage. It also keeps your home insulated with a 1 3/8ths inch thick polyurethane foam for greater energy efficiency.
The installation is easy because this door is pre-squared, pre-hung, and pre-punched. It also comes with a self-storing aluminum storm room with multiple features for sturdiness. Additionally, the six-panel design of this door has a chrome knocker and a convenient viewer.
2. Combination Exterior Door with Diamond Window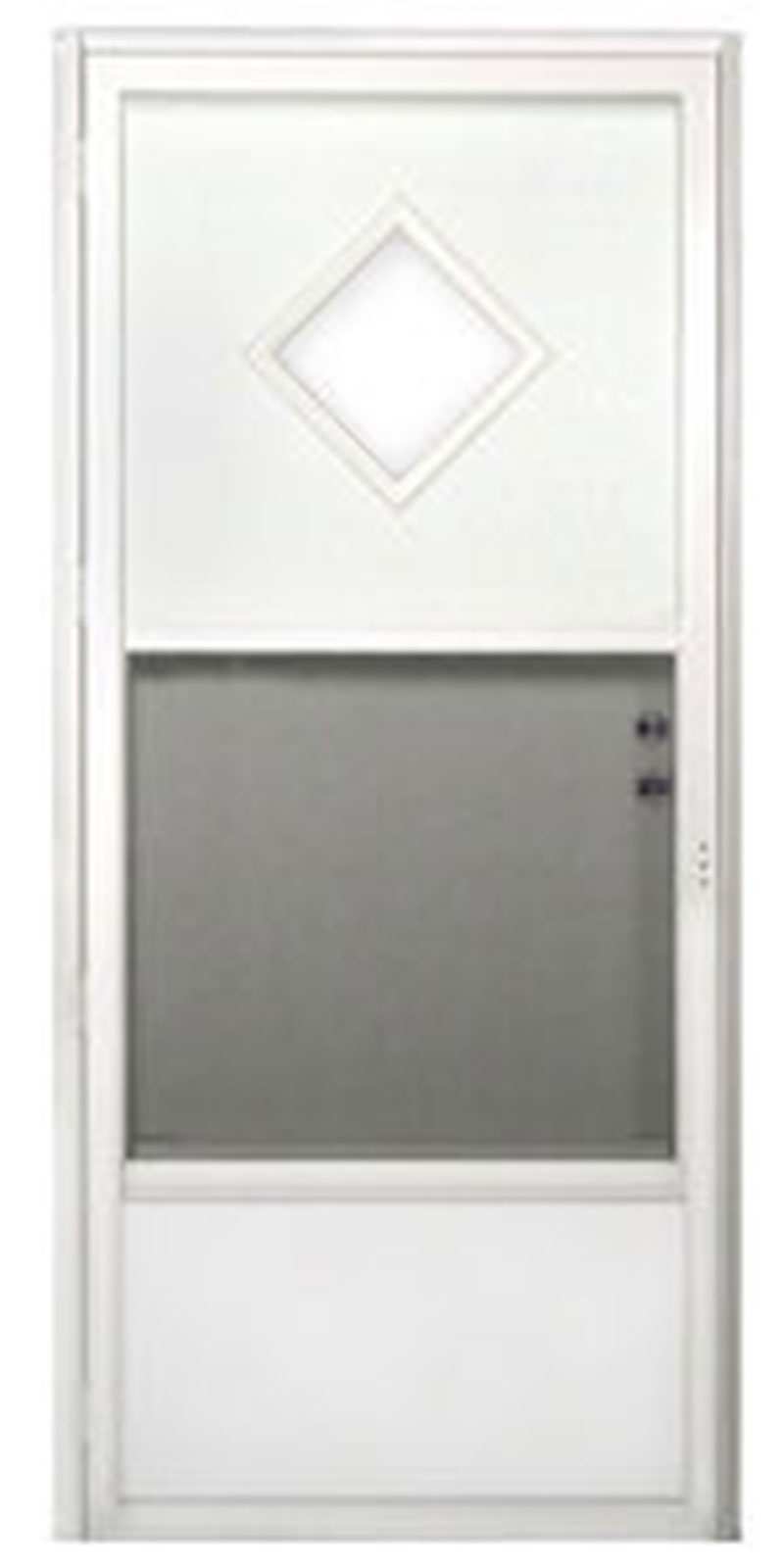 This is a durable pick for any home. It has dense and strong polyethylene panels attached to 1 3/8ths polyurethane foam. As a result, it is a great insulator and helps conserve energy.
This door comes with painted high-quality laminated veneer lumber jambs in 4 or 6-inch sizes. The galvanized steel frame is precambered on the lock side for an effective seal. Thanks to the adjustable stop, the seal is enhanced even further.
Additionally, the installation is easy with a pre-drilled lock and deadbolt. The door is pre-hung, pre-punched, and pre-squared to streamline the procedure.
A 10-inch x 10-inch window with tempered glass and a white frame adds to the style. The white aluminum self-storing storm door also comes with several useful features for greater sturdiness.
3. Combination Exterior Door with Full View Storm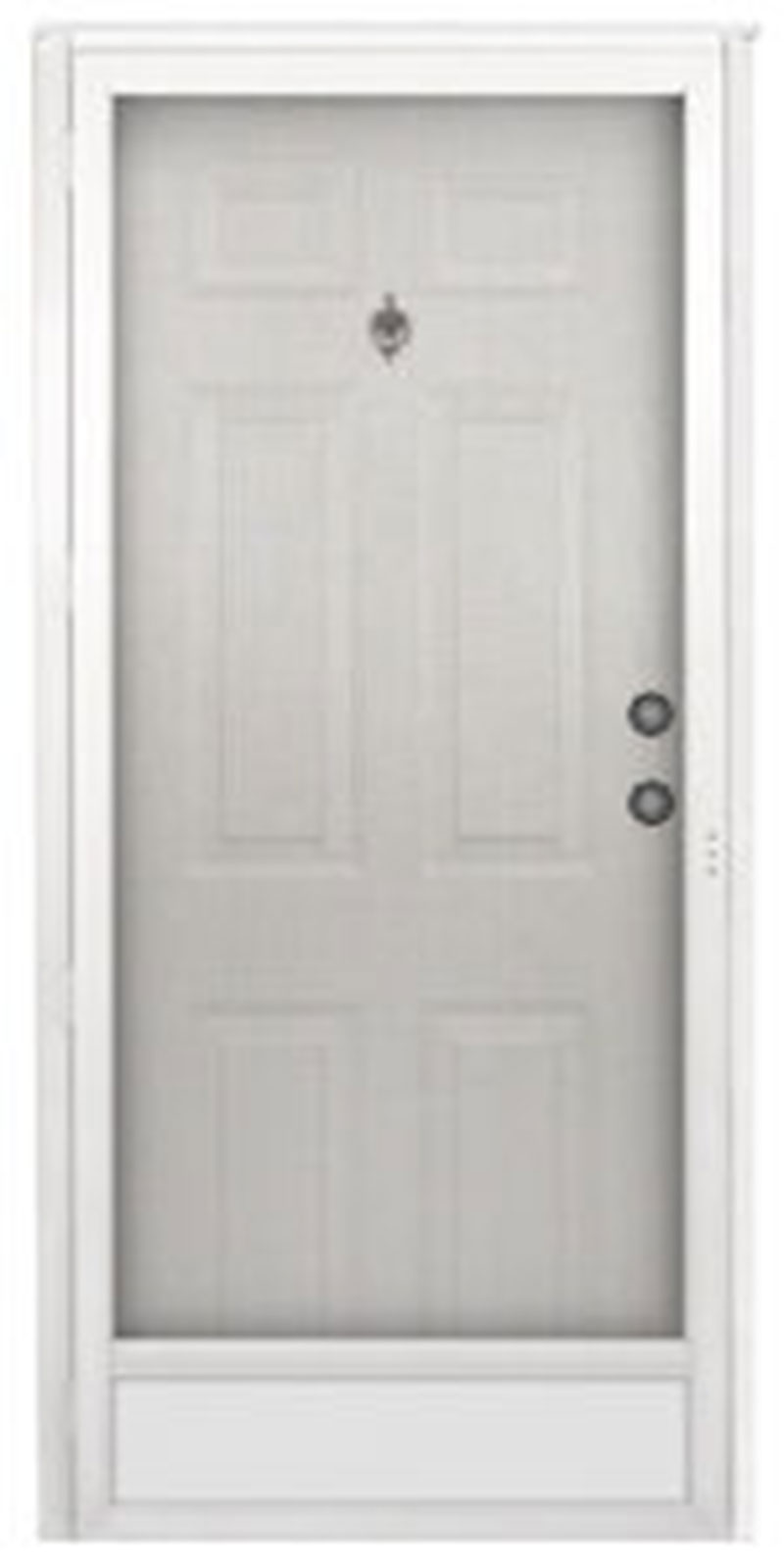 You can count on this door for durability thanks to its white vinyl laminated galvanized steel frame. It has good quality painted jambs made of solid pine wood, available in 4 and 6 inches. Additionally, it is weather-stripped to give you complete protection against water, light, and air.
The polyurethane foam insulation ensures an energy-efficient design for your home. You can also expect an easy installation with this pre-hung, pre-squared, and pre-punched door. To further ease the process, this door is pre-drilled for the fitting of the deadbolt and entrance locks.
For your aesthetic purposes, it comes with a chrome knocker and a viewer for safety. The white aluminum full-view storm door is secure and built to last.
4. Out-Swing Exterior Door With 9 Lite Window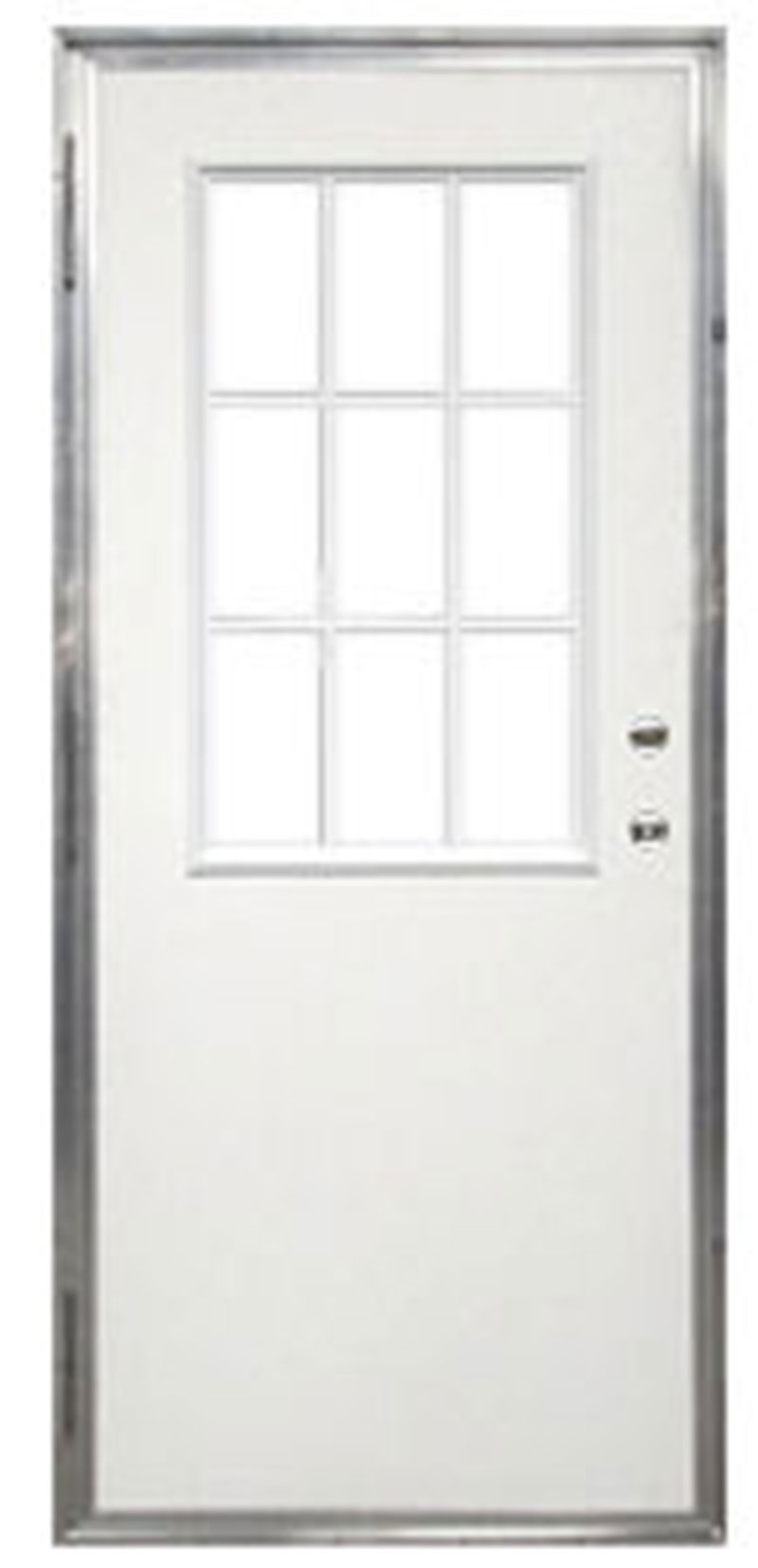 This door frame is made of welded aluminum for added strength and reinforced with an integral weather baffle. The polyethylene panels are dense and attached firmly to 1 3/8th thick polyurethane foam for energy-efficient insulation.
3 extruded hinges connect the frame and core and come with stainless steel bushings. Thanks to the bulb vinyl throughout the perimeter of the frame, the primary sealing system is effective. The secondary sealing is made of extruded flap vinyl for complete security.
This door also comes with adjustable striker plated and is pre-drilled for easy fitting of deadbolt and entrance locks. Not to mention, it is pre-squared, pre-punched, and pre-hung for a smooth installation process.
Lastly, it has a white window frame for your aesthetic requirements. An aluminum threshold plate is also included with this stylish door.
5. Out-Swing Exterior Door with Vertical Sliding Window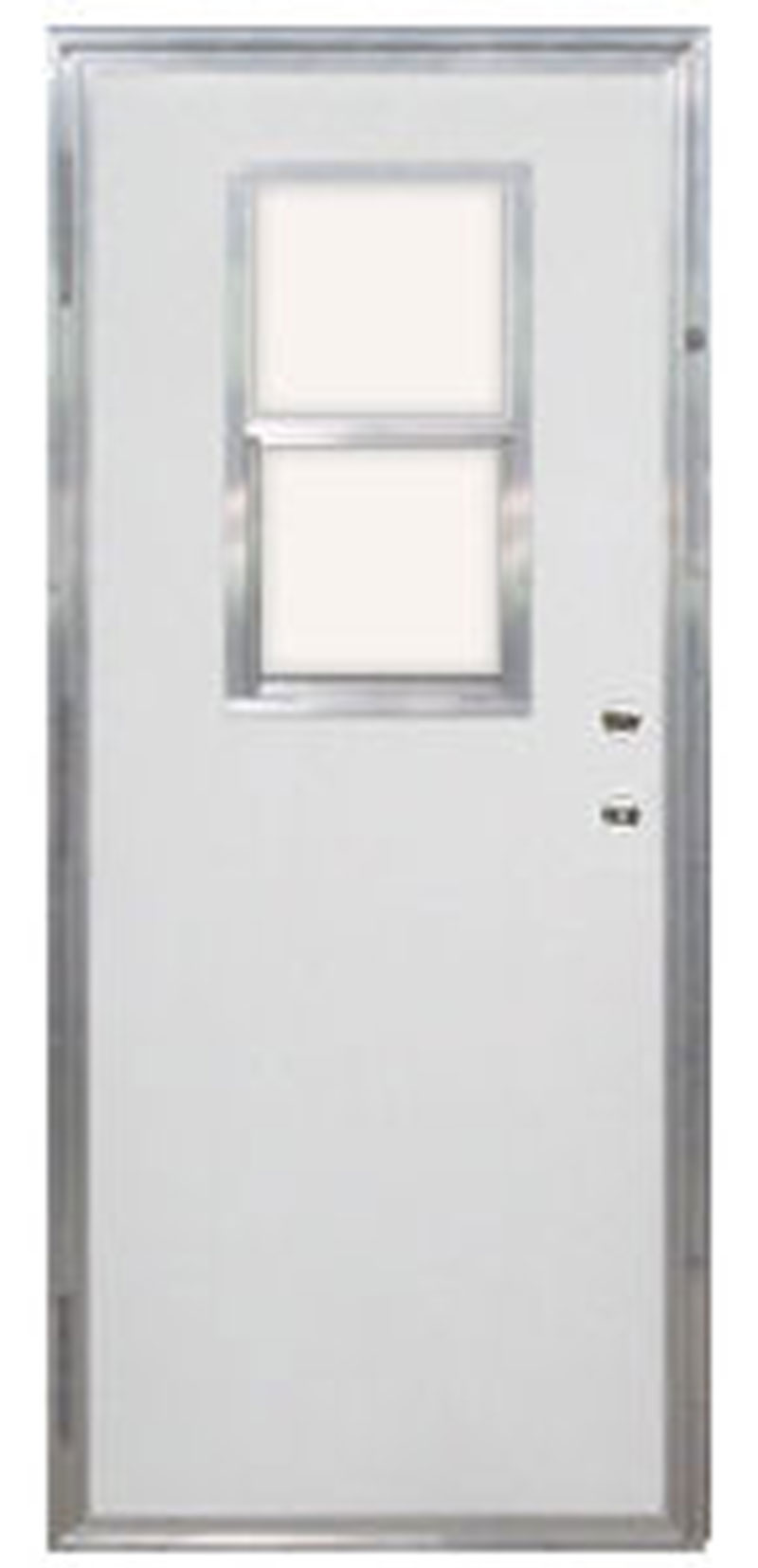 This welded aluminum frame with integral weather baffle is sure to keep your homes secure. The high-density polyethylene panels and polyurethane foam add to the energy-efficiency and insulation. Moreover, this door has 3 extruded hinges with stainless steel bushing that secure the frame's core.
Each side of this door is sealed with bulb vinyl to form the primary sealing system. For secondary protection, the sealing system also contains extruded flap vinyl.
You can expect an easy installation thanks to the pre-drilled fitting for the deadbolt and entrance lock. In addition to this, it is pre-punched, pre-hung, and pre-squared for a hassle-free installation procedure. This door also comes with a vertical sliding window with a screen for your decorative preferences.

Buying Guide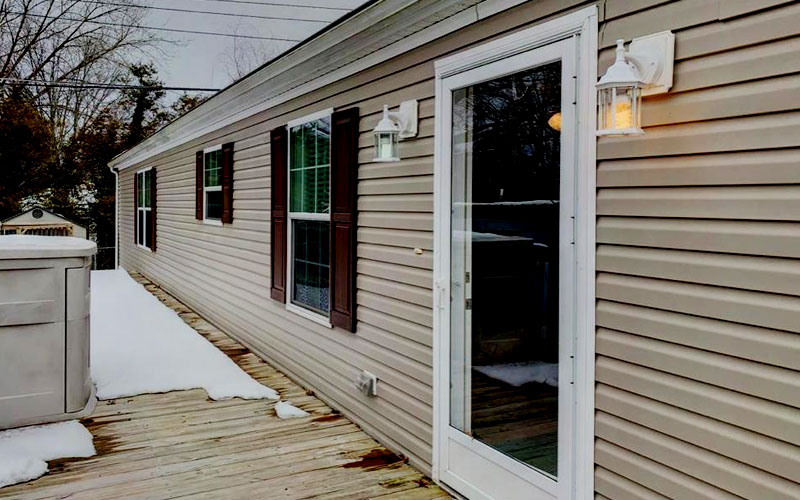 Things to consider when buy an exterior door for mobile home:
Any mobile home door on the market is built according to the rough opening size. This is the size of the hole where the door is meant to go. The measurement of the rough opening will be a little larger than the actual door size. Knowing the rough opening size of your mobile home is important for measurement and installation.
The dimensions of your door are crucial for a good fitting. The dimensions you need to measure include the height and width. These are measured from stud to stud, that is, the entire outline of the door frame.
Whether you want a right-hand or left-hand door will determine the door swing. A left-hand door will have hinges on the left-hand side and swing or open inwards. While a right-hand door will have hinges on the right-hand side and swing or open outwards.
You can also find right-handed and left-handed reverse doors that open or swing outwards.
To decide which type of swing is suitable for your home, study it from the outside. You should check which side the hinges are placed on. Additionally, determine whether you require a door that opens into the home or outwards.
Apart from height and width, jamb size refers to the door thickness and is an important measurement. This measurement is applicable in combination of doors, which have the main door and storm door as one. The jamb or door frame should accordingly correspond with the thickness of the wall.
You can find mobile home doors in a variety of materials. To choose the right material for your door, consider factors like privacy, price, security, eco-friendliness, etc.
Usually, people choose materials like fiberglass and vinyl. The conventional wood door is still a common choice, as are the following alternatives.
Steel
Steel doors are made of a mixture of multiple materials on the exterior. The interior includes rail and stiles, which are made of wood. The core on the inside is stuffed with insulation foam. The outer portion is covered with galvanized steel.
The interior is meant to provide stability, while the steel exterior ensures longevity and resistance to wear and tear. These doors are easy to maintain, as well. Steel skins can be colored as per your choice, and some come with PVC coatings for a wood finish.
Fiberglass
Fiberglass doors are built with similar wooden interiors as those of steel doors. Their outer covering is that of fiberglass for enhanced strength and durability. Fiberglass can not only be painted but also embossed for a textured finish.
Vinyl Doors
Vinyl doors are built of a combination of aluminum, steel, and wood. This mixture of elements gives it greater strength. These doors are good for insulation since they have multiple chambers. Vinyl is also a good material for durability and stands firm even in bad weather. Not to mention, it doesn't require much maintenance or regular repair.
Aluminum
Aluminum is one of the most popular materials for doors. Not only is it reasonably priced but also suitable in diverse weather conditions. Aluminum is not as strong as steel, but it is lighter and rust-resistant. You can be assured of durability with aluminum-made mobile home doors.
The style of your door should fit in with the look of your entire mobile home. You can look for modern and traditional style doors for some variety. After picking out the appropriate material, you can decide on a color for your door.
Another consideration for door styles includes deciding on window designs. Some doors have a solid style without any windows, while other doors come with various window shapes. Whichever style you finalize, ensure the measurements are suitable.
Although most doors have a standard installation procedure, always check the manual beforehand. A door that is prepared for a simple installation will help you save money since you can do it yourself.
How to Measure the Mobile Home Exterior Door?
For an accurate fit, you will have to manually measure the door with care. While standing on the inside with the door closed, remove the door casing. Then measure the outside to outside measurement of the wood jamb for the width. For the length, measure from the outside of the wooden jamb to the ground.
You will have to pick a door size closest to the measurements you take. The rough opening should be the same measurement as the door size found on markets. The rough opening can be measured accurately if you take the door off.
You will also have to check whether the door is right or left hinged. Additionally, the sidewall stud thickness will indicate the size of the sidewall jamb.
How to Replace an Exterior Door on A Mobile Home?
If you want to install or replace an exterior door, you will require the following tools:
Power drill
Putty knife
Quarter-inch hex head bit
Phillips head bit
Inch and a half hex head screws
3 quarter-inch putty tapes
Wood shims
You should start by clearing the mounting surface and fastening them securely around the rough opening. Place the putty tape on the back of the mounting flange of the door. As you do this, do not remove shipping clips or fasteners. The door should also be locked at all times during the installation.
Place the door into the rough opening and secure the door seal on the floor. You can then move the door hinge side to be firmly fixed against the stud.
Insert the 3 screws into the pre-punched flange. These will go in the middle of the hinged side. Insert 3 more screws into the lock side. After this, secure the balance of the header, lock side, and hinge side.
Once the door is in position, you can remove the shipping clips and try opening the door. You may require a wooden shim for the lock side near the latch.
Doors with butt-type hinges will need to be penetrated with a long screw that goes through the stud. Finally, install the locks, safety chain, storm door, and any other parts removed during the installation. It is optional for an adjustable stop to be put on the inner door's exterior for better sealing. This entire procedure should take you around 1 hour.
Conclusion
Whether you are installing a door in your new home or replacing your old door can be challenging. There are multiple factors to consider for making it the perfect addition to your mobile home. Given that a door is the first thing guests are bound to notice, you want to give off the right impression.
By keeping the criteria mentioned above in mind, you can find the right door without any issues. Our picks will help streamline your search and are guaranteed to deliver satisfaction as well.
The other thing you can rest easy about is the affordability of this procedure. Not only will you save money on quality doors, but also avoid spending on installation. As long as your measurements follow our guidelines, you can't go wrong with your new mobile home exterior door!