It is always the littlest of details that make the greatest differences in feeling at home. You can say the same for your mobile home– there is no doubt! When this is the case, you would want the best for your mobile home. Are you looking for the perfect interior door?
You will be glad to know that you do not have to limit yourself to any boring choices! Even so, selecting the best door may be quite a task. As you read further, you will find the top five best interior door options to make your decision breezier!
The 5 Best Mobile Home Interior Doors
Here are the best interior door choices for your mobile home. You will find an overview and review of each of them to make a valuable decision.
1. Jeld-Wen® 24″ x 78″ Flush White Interior Door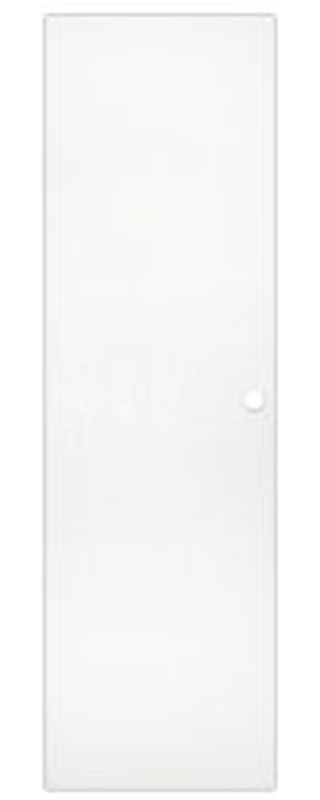 Are you fond of embossed woodgrain finishes? If yes, then this door will be a suitable choice for your mobile home. The Luan and cedar-embossed finish of the door gives it a subtle yet classy look. It is lightweight yet maintains competent durability. The door is 24 inches in width, 78 inches in length, and 1 3/8 inches in thickness. The item is pre-drilled and reinforced for the incorporation of a lockset.
Pros
Adapts to any interior design
Centered hole allows right or left hinge hang
Clean, high-quality construction
Cons
Can be mounted only with non-mortise hinges
Might appear too bland to some
2. Jeld-Wen® 28″ x 78″ Flush White Interior Door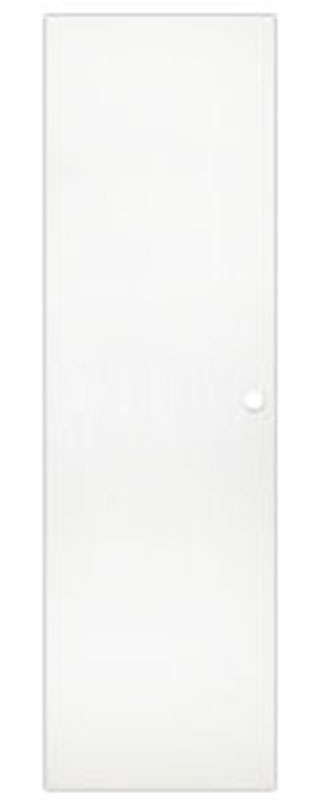 The 28″ x 78″ Jeld-Wen Flush White Interior door is similar to the one mentioned above. The difference lies in their dimensions. It is 28 inches wide, 78 inches long, and 1 3/8 inches thick.
With a simple cedar-embossed finish, this door comes with a hollow core. The Flush White Interior door weighs around 47 lbs. The versatility of the door is not deniable. If you are looking for various indoor purposes, this will be the right choice.
Pros
Reinforced for the locking mechanism
Centered hole for hanging inconvenient direction or side
Lightweight
Cons
Uses only non-mortise hinges for installation
3. Jeld-Wen® 30″ x 78″ Flush White Interior Door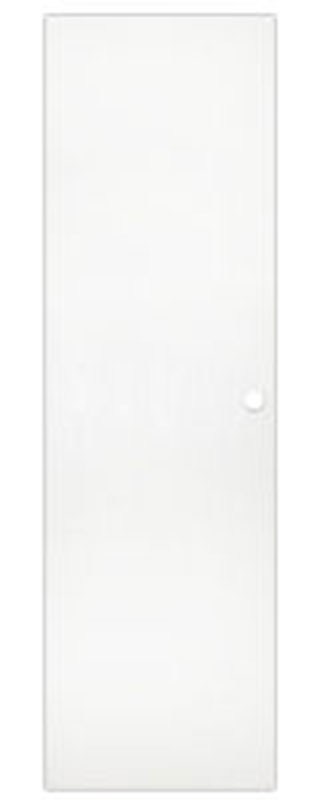 If you have a slightly wider frame to account for, then the Jeld-Wen 30″ x 78″ Flush White Interior Door will be an appropriate selection. The door's width makes it suitable for rooms with wider door such as the bedroom entrances, dining or any other similar area.
The thickness of the door is 1 3/8 inches. You can equip it with a latching mechanism of your own. Similar to the other doors here, this one has a centered hole too.
Pros
Fit for wider spaces
Lightweight and durable
Adaptable
Cons
Does not come pre-hung
Width-to-thickness ratio might seem unsatisfactory to some
4. Jeld-Wen® 24″ x 80″ Six-Panel White Interior Door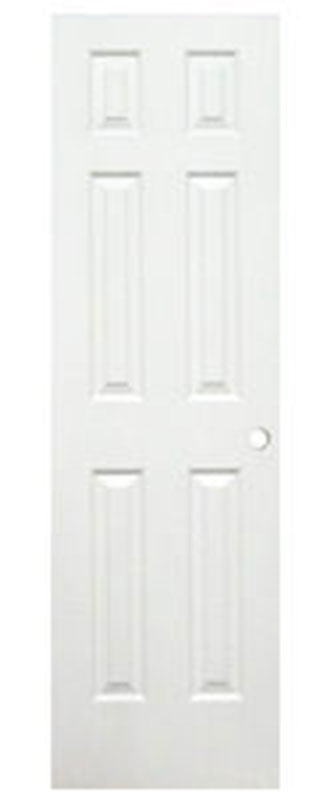 The Jeld-Wen Six Panel White Interior Door flaunts an excellent paneled style. The dimensions are 24 inches in width and 80 inches in length. It will be a suitable candidate if you have a higher ceiling. The surface has a spotless, white shade with indented panels.
The paneled look can enhance the aesthetics of your quarters. In addition to the visual and measurement-based benefits, this door also has room for a lockset.
Pros
Reinforced for security features
Flexible, pre-drilled hole for preferred swing direction
Slightly less expensive than other options
Cons
Might be a little bulky
Demands relatively higher maintenance
5. Jeld-Wen® 28″ x 80″ Six-Panel White Interior Door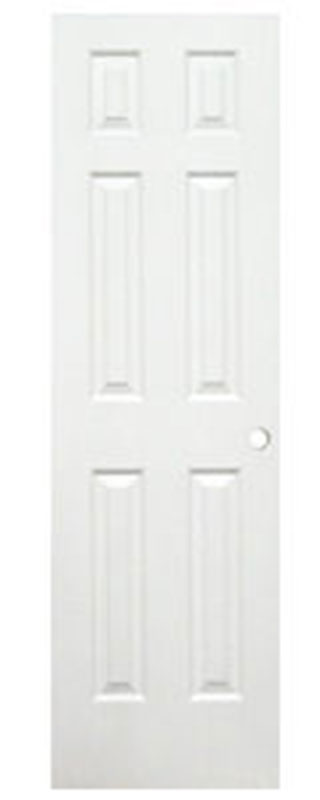 This door is apt if you are looking for a broader, taller door to fill up a bountiful frame in your mobile home. With 80 inches tall, 28 inches wide sleek design, this Jeld-Wen Six Panel White door can meet all your interior design needs.
The brand has pre-drilled the door for your convenience. It has adequate reinforcement for the possibility of a lockset.
You can also opt for either a left or a right-swinging direction. It is as per the availability of space and your ease of use.
Pros
Flexible design for effective space management
Can accommodate components for security
Luan with woodgrain finish gives a classy look
Cons
Requires non-mortise hinges only
May not fit in a mobile home with average dimensions
How to Measure A Mobile Home Interior Door?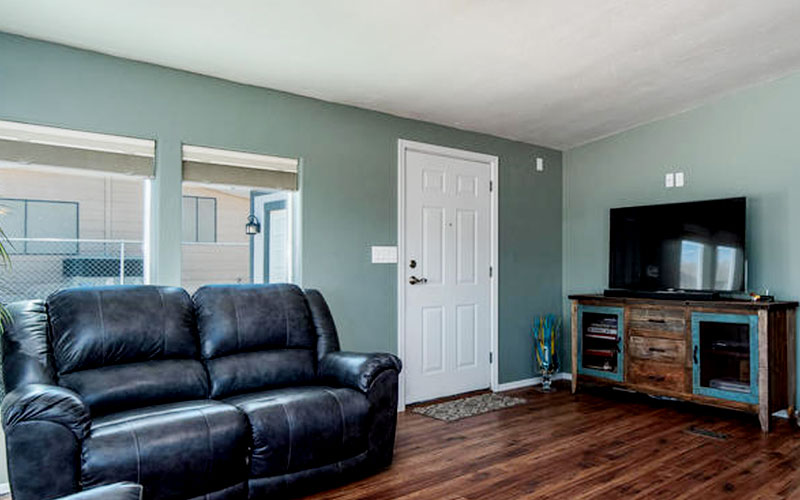 You now have the best interior doors at your fingertips, but there is a long way to go before you reach the finish line. Did you know that even a slight error in measuring a mobile home interior door can have drastic effects?
You will need to be ready with a tape measure to get a precise measurement. Generally, the measurement specifications that a door comes with refers to the opening into which it will fit. If you have not installed a doorway yet, measure the frame from the edge of one post to the other. In this way, you will obtain the measurements of the opening.
If you have an old door in place already, then measure from the edges of its metal frame. When you measure a door, you need to focus more on getting accurate measurements of the frame.
Keep in mind that you must measure from the edge of the frame and not the flange.
How to Install A Mobile Home Interior Door?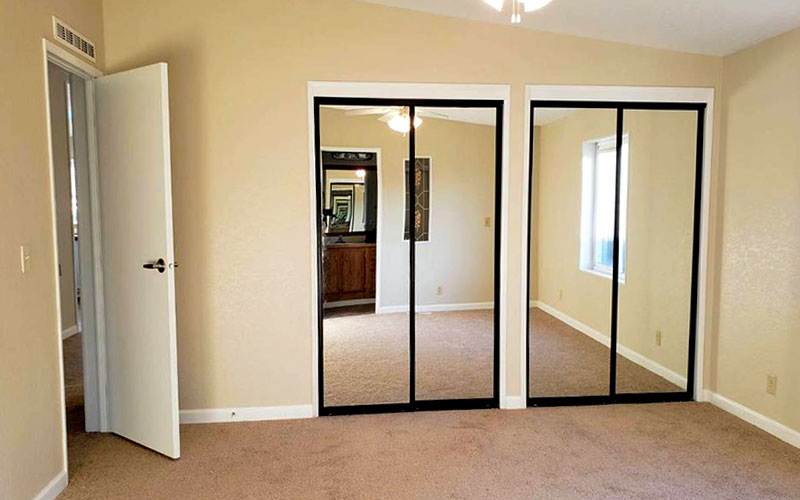 With such a high-quality selection of the best mobile home interior doors before you, it will not be long before you get your own! The process of installing a mobile home interior door may perhaps seem daunting. Do not sweat- it is a straightforward procedure you can conquer easily.
First, you need to have a precise measurement of the opening your door will go. If you had a pre-existing door, it is better to keep its evaluations on hand too. You may have to trim your door to fit the frame if you cannot find a perfect size. Always approach a professional for such tasks.
Here is how you can install an interior door:
If there is an old door, unscrew its hinges
Do not take out the old hinges lose from the door frame or jamb
Temporarily place the door within the frame or the opening to check the fit and direction
Keep in mind that there should be a gap of at least 1/16 inches at the sides and the top. The bottom should have a minimum clearance of 1/4 inches
Once you have achieved the perfect temporary fit, mark the position of the hinges on the door
If you need to replace the old hinges, do so with proper markings
Install the hinge leaf or hinge on the door frame, and place the door at a 90° angle
Start by installing the center screw for the top and bottom hinges only and check the operation
If the door does not operate smoothly, you can try inserting thin pieces of cardboard under the hinges and check each arrangement
Install the remaining screws once the door swings comfortably
Once you have completed installing the door, you can finally fix the doorknob. Your new interior door will be ready!
Conclusion
You can boost the overall appeal of your mobile home by installing high-quality and attractive interior doors. Based on the requirements, the size varies for the interior doors. You can find different dimensions for various purposes, such as bedroom doors, closet doors, and more.
Always remember that accurate measurement is essential for finding the best interior door for your mobile home. With these detailed top five interior door options, your mobile home will indeed look elegant.
Choose the one which suits your home he best! What are you waiting for? It is time to welcome a fresh look for your home!