Do you want to create a warm, cosy, inviting kitchen? Sunflower kitchen decor gives you lots of ideas for items you can use that will transform your kitchen so that it becomes the heart of your home.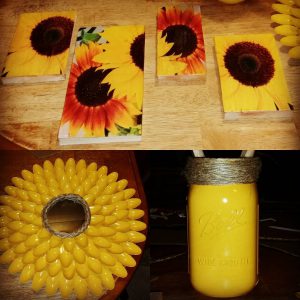 With a few, carefully selected, key pieces, you can easily create a sunflower themed kitchen. Make a happy, sunshine-filled room that you and your nearest and dearest never want to leave.
Sunflower kitchen decor ideas and inspiration.
Make Wonderful and Inexpensive Kitchen Gifts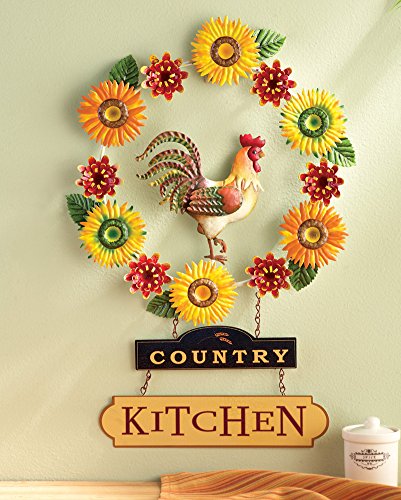 Sunflower Kitchen Decal Wall Stickers
Repositionable and Removeable Wall Stickers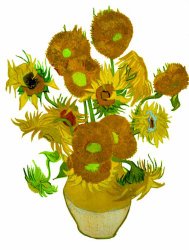 There really is no need to go to all the trouble and expense of repainting your walls to match a sunflower theme that you've decided on. You can get removable wall decals like these beautiful Sunflower Decals that simply stick over the top of your painted kitchen wall.
Wall decals will generally work better on lighter walls that have a plain white, cream or pale pastel painted background. They are all easily removeable (unlike wallpaper and borders) and can often be repositioned easily if you change your mind or make a mistake with where you want the designs to be.
Other kitchen wall decor includes decorative paper borders, clocks, plaques and calendars. Then you're all set! Let's take a look.
Farmhouse, Country Style Sunflower Stickers
Small, country style vinyl decal stickers featuring Roosters, sunflower and leaf designs which you can use to brighten up your kitchen cabinets or your walls.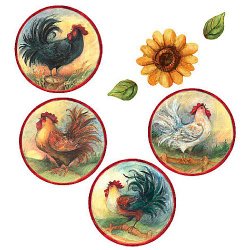 These decals can be easily removed without leaving any sticky residue behind and you can reposition them if you want to change up the look of your kitchen. The stickers are also wipe clean which is very handy in a kitchen where food can easily be spilled.
A wonderful, rustic country farmhouse feel to the charming flower and rooster designs.
Sunflower Design for Your Window
Brighten up a window with a poor view by filling it with a sticker print of Van Gogh's famous 'Sunflowers' or 'Tournesols' painting.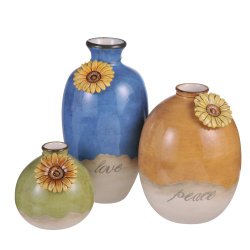 The colors and style of this design would certainly suit a traditional country style or farmhouse kitchen. Look forward to your Sunflowers every day in the happy knowledge that these ones will not wilt and die.
Window stickers are best applied where you don't have much of a view to look forward to. Perhaps your kitchen window overlooks a house or a wall. Well better to look at a vase of fresh sunflowers for an instant pick-me-up every day!
Sunflower Kitchen Wall Decorations
This colorful metal country farmhouse style rooster and flowers plaque matches wonderfully with the rooster and sunflower decal stickers which you can find by scrolling up the page a little into the special decal wall stickers section.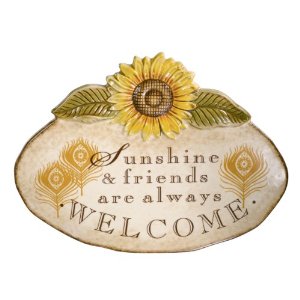 Other kitchen wall decor includes decorative paper borders, clocks, plaques and calendars. Displayed below are items which have been carefully hand-picked to work well for your sunshine kitchen.
Sunflower Plates, Bowls, Cups and Mugs
Not everything in your sunflower themed kitchen has to have a sunflower design. I would advise using the sunflower motif most definitely on the key kitchen items that you use or that are on prominent display in your home. Dinnerware such as plates, cups and mugs are items which tend to get used a whole lot so I'd advise that you choose a sunflower set for your kitchen.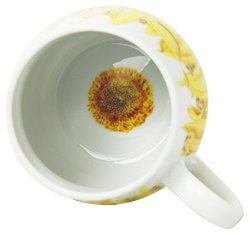 One great idea, to keep the cost down, is to purchase a set of dinnerware with the sunflower emblem but then mix and match those with some plain dinnerware sets in creamy yellow if you're going for a sunny look or cream or light brown for that rustic style. That way you can get the dinnerware you want on a smaller budget.
Dinnerware and Tableware Accessories
Sunflower dinnerware accessories are the items that will usually be left out on the table or on the side ~ butter dishes, salt and pepper shakers, sugar and creamer sets, teapots, tureens and platters. Sometimes it's the accessories and the attention to detail which make all the difference when creating a gorgeous sunflower-themed kitchen.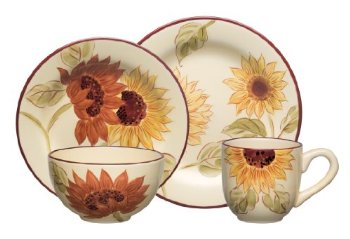 These accessories also make great gifts because they are not the common, everyday items (like plates and cups) that people will most definitely have already. And if you do purchase an extra sunflower platter, for example, you can bet it will get used or put proudly on display.
Sunflower Placemats and Table Linen
If you want to quickly furnish your home with sunflower kitchen decor, then a sunflower tablecloth, as with other large soft furnishings like curtains and rugs, will make an immediate impact on the theme of your room.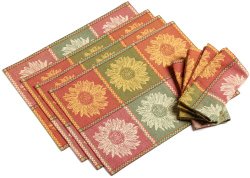 If you're purchasing a tablecloth as a gift do take care that you know the measurements of the table which it's supposed to fit. Someone bought us a gorgeous tablecloth as a wedding present which we could never use because it was for an oval table when we have a round one and it was much too large!
Sunflower Kitchen Aprons
For anyone who cooks up a storm in their kitchen and tends to get messy quickly (I know I do!) then having a non-white apron is a blessing. I love this Sunflowers on Red Apron which is a Fair Trade Product and produced by small women-owned businesses in Ghana.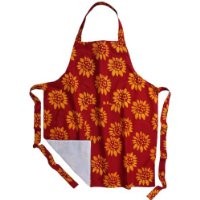 As for towels, mitts and pot holders, these are definitely the items which often need to be replaced in the kitchen because they do get worn and grubby with time. So these items always make great gifts. I know I love it when people buy good quality towels and mitts for our kitchen.
Curtains, Pillows and Cushions
Soft furnishings can help to transform a plain kitchen completely. New kitchen curtains, a rug, some cushions and even some sunflower fabric to make your own items can create a warm and cosy place where people want to sit, eat and chat rather than hurry away.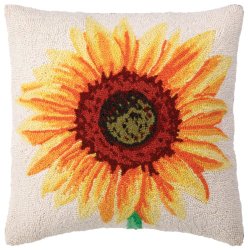 Pillows are great because they give an instant and inexpensive warm boost to any room in the home. Perfect to sit on when you have hard seating, prop them up against your back for comfort and arrange them around your room to give it a more homely and comfort look and style.
Baking and Bakeware Items
Baking is a firm favorite of mine! Cookies are incredibly easy to make. You can find plenty of cookie recipes online (try allrecipes.com) and you can also buy ready mixes which are super simple to use. You can eat them iced or without icing and they make fab giftstoo.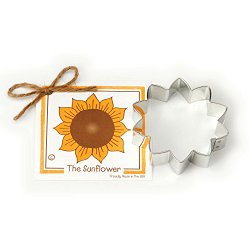 While baking and bakeware items are not essential to sunflower kitchen decor, they're sweet accessories to have and make really truly thoughtful gifts if you know someone loves cooking and sunflowers.
Sunflower Cookie Cutter
The sunflower cookie cutter is my personal fave as I make a whole lot of biscuits for my little girl and her friends. I often get called upon to help out with food for school events and parties. Cookies are quick to make and with the aid of cutters, you can turn plain biscuits into something that all the kids want to eat!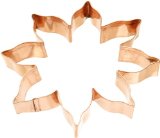 Feel free to leave a comment or even ask a question related to my sunflower decor for kitchen post and I'll get back to you as soon as I can.