Kitchen canisters are very important to have in the kitchen. They are there to store the flour, sugar, brown sugar, tea bags, coffee or many other food items. Having these stored in the canisters keeps these items in a convenient and protected place. The canisters also add to the decor of the kitchen and come in many different designs and shapes. These beautiful and unique canisters can also become the center of attention in the kitchen.
Some of the clever canisters are the country style, and novelty styles such as animals, birds, flowers, and many other themes. Shopping for the perfect canisters can be a lot of fun. This is one kitchen decor that doesn't even need to match the rest of the room. Kitchen canisters are allowed to be different and to be a conversation piece.
These lovely canisters are made of ceramic, glass, stainless steel, copper and even marble. There are even bronze ceramic canisters. Anything goes. The plain and simple ones may just be clear glass so you can see what's inside. They could be a plain white ceramic. Other ones will be fancier with blue, amethyst or amber-colored glass. Some are whimsical with roosters as the handles and farm scenes on the bottom. Others have a black and white checkerboard pattern with a brightly-colored lid.
Some of the canisters are beautifully hand-painted with florals, fruits, florentine designs and other colorful patterns with stripes and squares. The canisters that are hand painted and handcrafted of clay are usually made in Italy and add a very elegant look to the kitchen. These could be all white and hand glazed, or they could be blue and white with a floral pattern.
Sometimes the canisters will be marked to tell you what's inside, such as flour, coffee or sugar. Others are left up to your discretion. No matter which kitchen canisters you choose, you can be sure they will add to an already fashionable kitchen.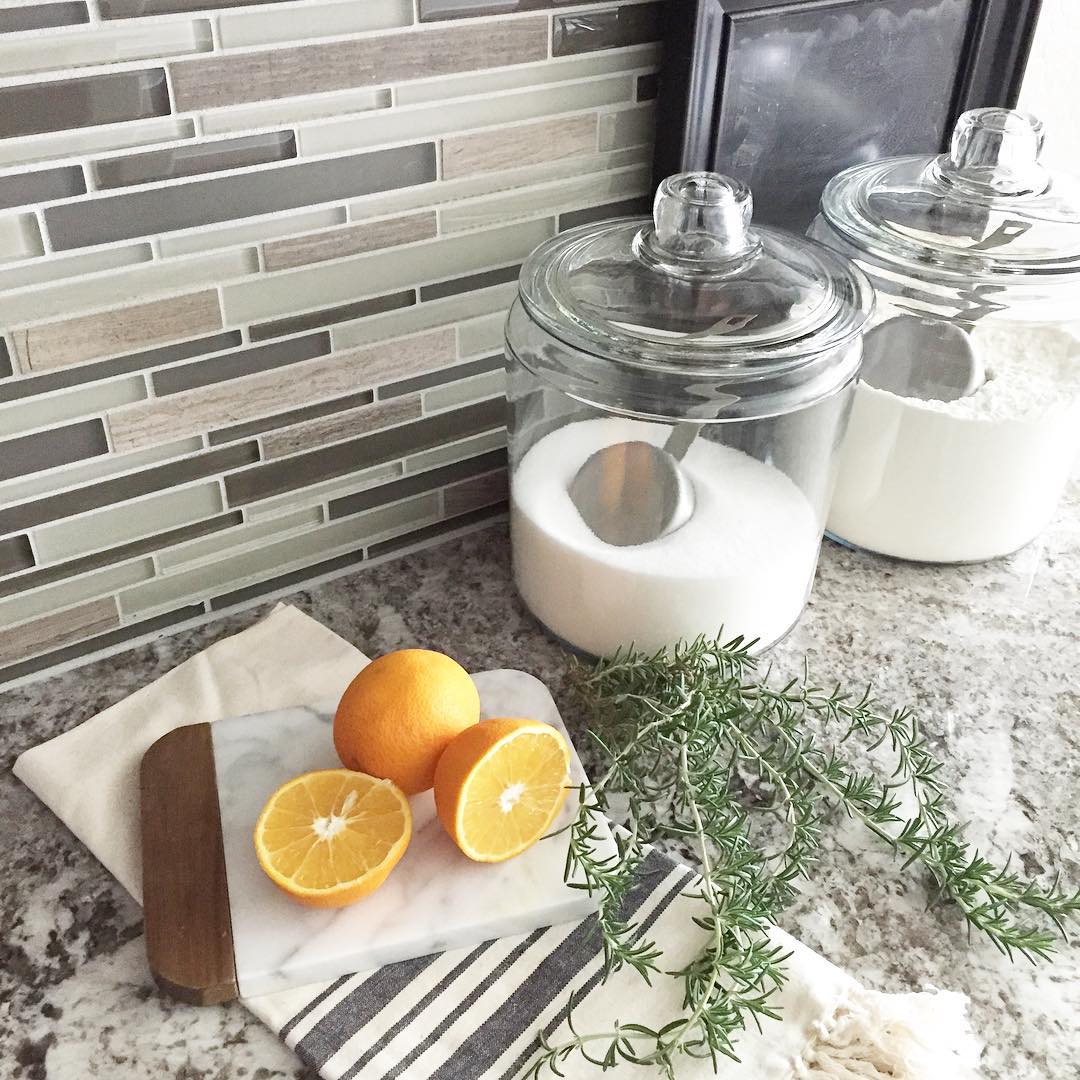 Glass Kitchen Canisters
Glass kitchen canisters are available in an array of sizes, colors, shapes and models. There are numerous choices to choose from to match any kitchen decor or design.
Color
Kitchen canisters are available in many colors. The glass may be a solid color that is not see through or the glass can also be a clear color as well, such as green, blue, red or yellow. Some also may have no color to them and be clear in design.
Size
Sizes vary from very small canisters that can hold an ounce or so of dry items to larger canisters that can hold upwards of a few pounds. Many canisters have seal tight lids that have a rubber ring on the lid to make sure there is a tight seal and the items inside will not become spoiled. Other canisters may have a locking mechanism on the outside to lock the lid in place. There are also canisters that are made to hold liquids and these may have more of a corking stopper for a lid.
Shape
They also come in numerous shapes. There are the standard shape such as round, square or rectangular. However, there are also canisters that are available that may look like a chicken or rooster and half the body comes off as the lid. Others may look like flowers, fruit or other shapes. Tall skinny canisters are perfect for holding pasta and like items. While there are some that are more round in shape, with a flat bottom and tilt outward with a lid. The opening is large enough to fit a hand inside and these work well for holding candies and similar foods.
Details
There is also the option of very detailed and ornate canisters too. The glass may be raised and the pattern can be felt from the outside. The shape may be odd in shape and there can be a unique lid added that may be silver or gold in color or even a colored lid that matches the ornate design.
There are so many choices for glass kitchen canisters that they can be mixed and matched to create different and unique displays.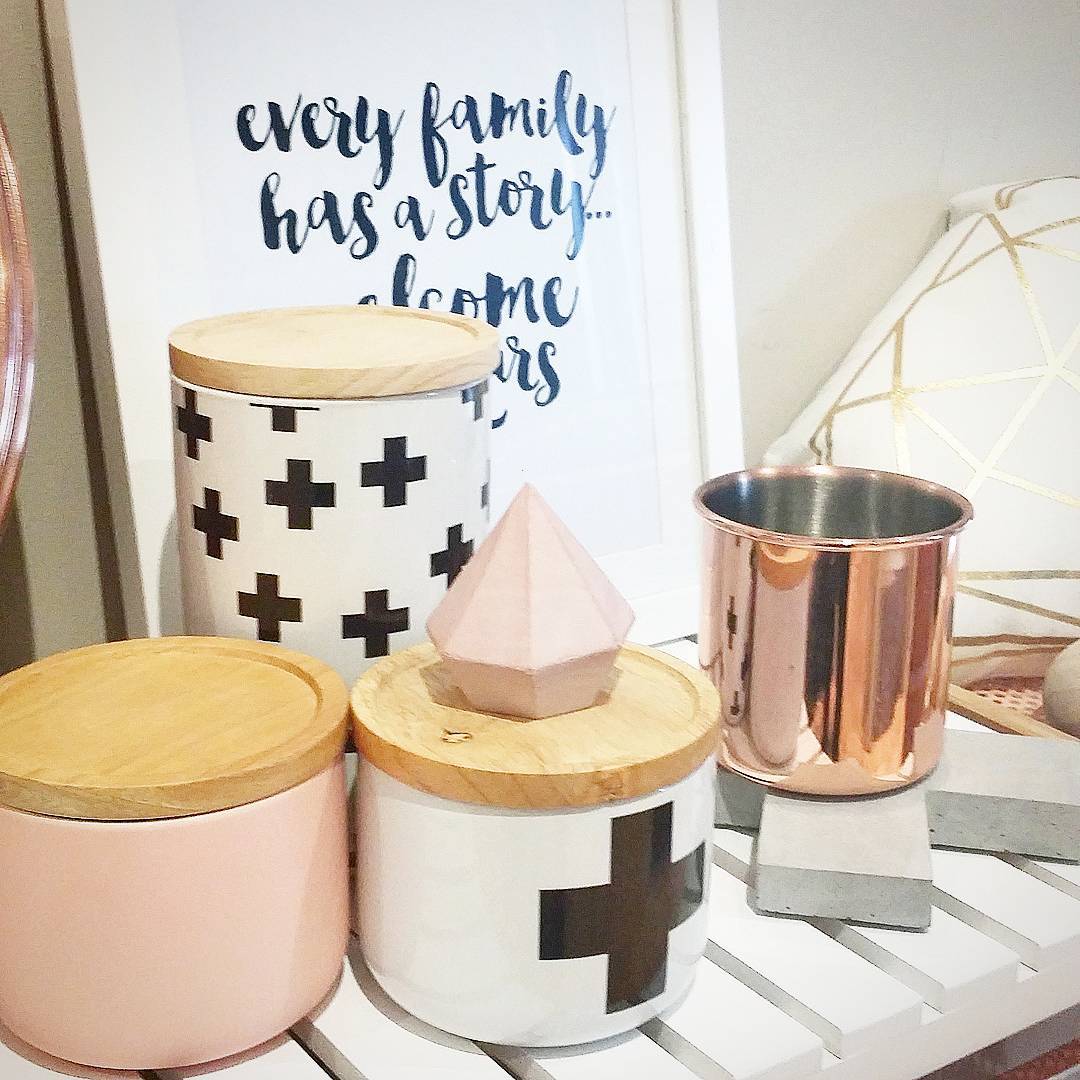 Ceramic Kitchen Canisters
Ceramic kitchen canisters are a great way to store food and keep it fresh for a very long time. All neatly lined up in a row upon the counter, just about everyone has a set of kitchen canisters. These stylish storage containers come in an infinite array of decorative designs and colors. They also come in assorted materials, from glass to stainless steel, there is sure to be a set out there to suit anyone's sense of style.
One of the most popular and classic ceramic canister sets is the bright white with vintage silver locking clips. Elegant meets functionality with these counter containers. Although as time has passed, so many colors have been introduced and now provide kitchen storage connoisseurs with a palette of every shade under the rainbow. Another type of ceramic canister to consider are the ones that have been handcrafted.
Uniquely individual, one can rest assured that there set will not only match their kitchen, but will not be found on someone else's counter tops.Some ceramic handcrafted canisters come with fun, original lids that also make them one of a kind. Even though these do not lock they make any kitchen welcoming and cozy.When deciding upon ceramic canisters for the kitchen, one will want to choose between locking and non locking lids. Those that lock will keep dry foods like rice, flour, and sugar safe and fresh for quite some time. Ones without locking lids will keep food fresh, but not as long as those that lock.
If the decision is made to by canisters that lock, then look for seals that are not broken or cracked. Sometimes if they have been sitting on the store shelf for a while the seal can become dry. To maintain the seal after purchase, wipe with olive oil after every washing and it will not crack or break. Overall, you can't go wrong with ceramic storage in the kitchen, whether cookie jars or canisters, fresh food is always a good thing. The only problem with ceramic kitchen canisters is deciding what style and color to go with.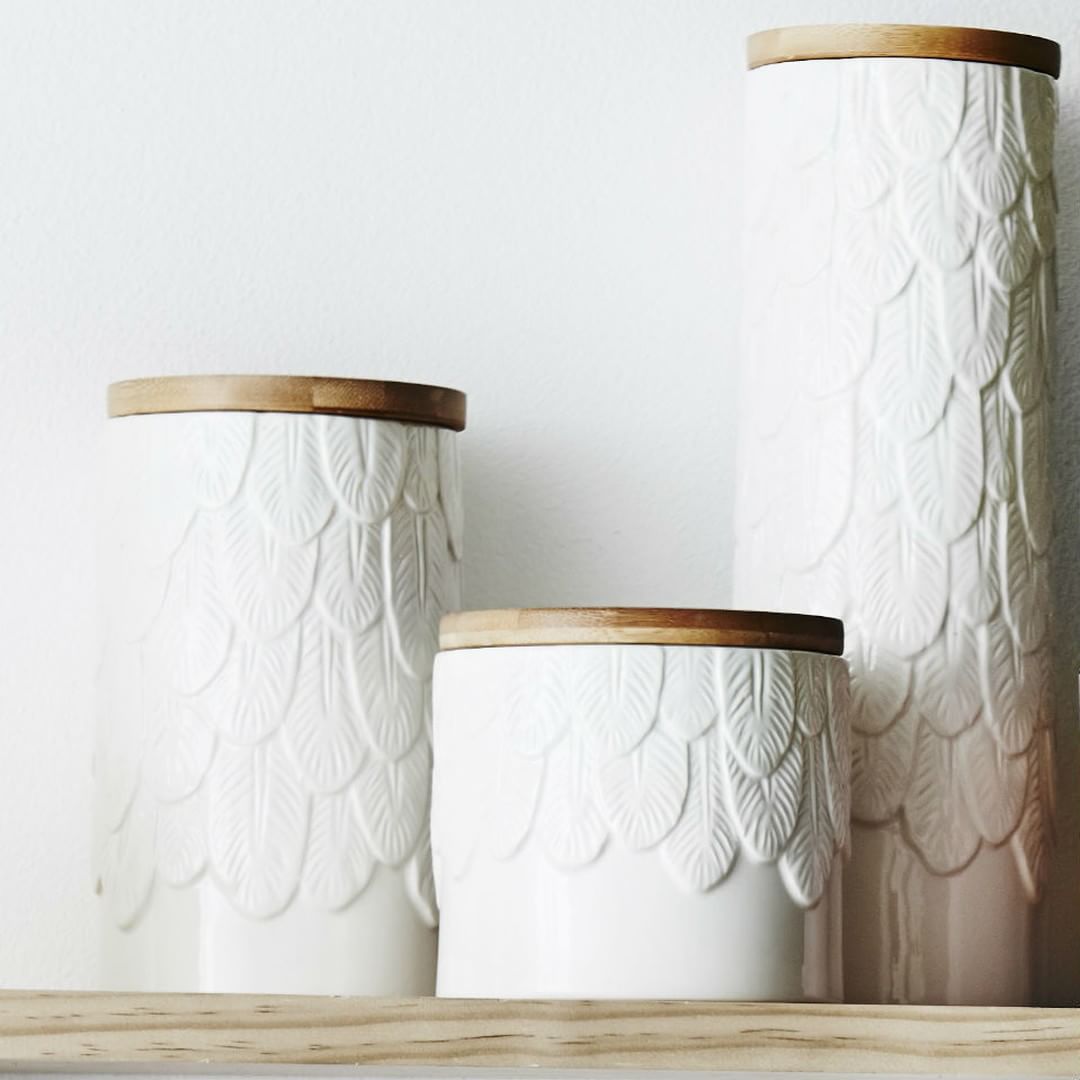 Kitchen Storage Canisters
When shopping for the appropriate kitchen storage canisters for your home the first thing you want to consider is what the canisters will be used for. If you are just looking for decorative canisters that can provide additional kitchen storage for your counter top or table, you will want to keep your overall kitchen motif in mind. Vintage inspired canisters can add a fun color splash to your décor. If your kitchen is more modern and sleek you may want to shop for stainless steel, brushed nickel or satin canisters. For the classic country kitchen design, porcelain or clay canisters with a general store feel are a lot of fun. Whatever need you have, kitchen storage canisters are available in all kinds of shapes, colors and sizes!
Another important factor when shopping for kitchen storage canisters is what kind of lid will work best for your needs. If you are hoping to store fresh products for long periods of time you will need to ensure that your canisters have a fresh seal lid or rubber seal that keeps air out. If you are drawn to porcelain or clay canisters, generally the lids do not have fresh seals and simply rest on the top. These types of canisters are more appropriate for storing sugar, flour or other dry powder products.
Although most commonly sold in sets of four, storage canisters are also sold individually. For your basic coffee container or cookie canister, try shopping at a local kitchen supply store or super store in your area.
Finally, when shopping for kitchen storage canisters pay close attention to the sizes of the set. The average canister set will include a 106 ounce, 66 ounce, 44 ounce and 26 ounce combination.
Baking goods, cookies, cereal, coffee and other dry products are all perfect everyday items that will be stored safely and easily accessible in your kitchen storage canisters.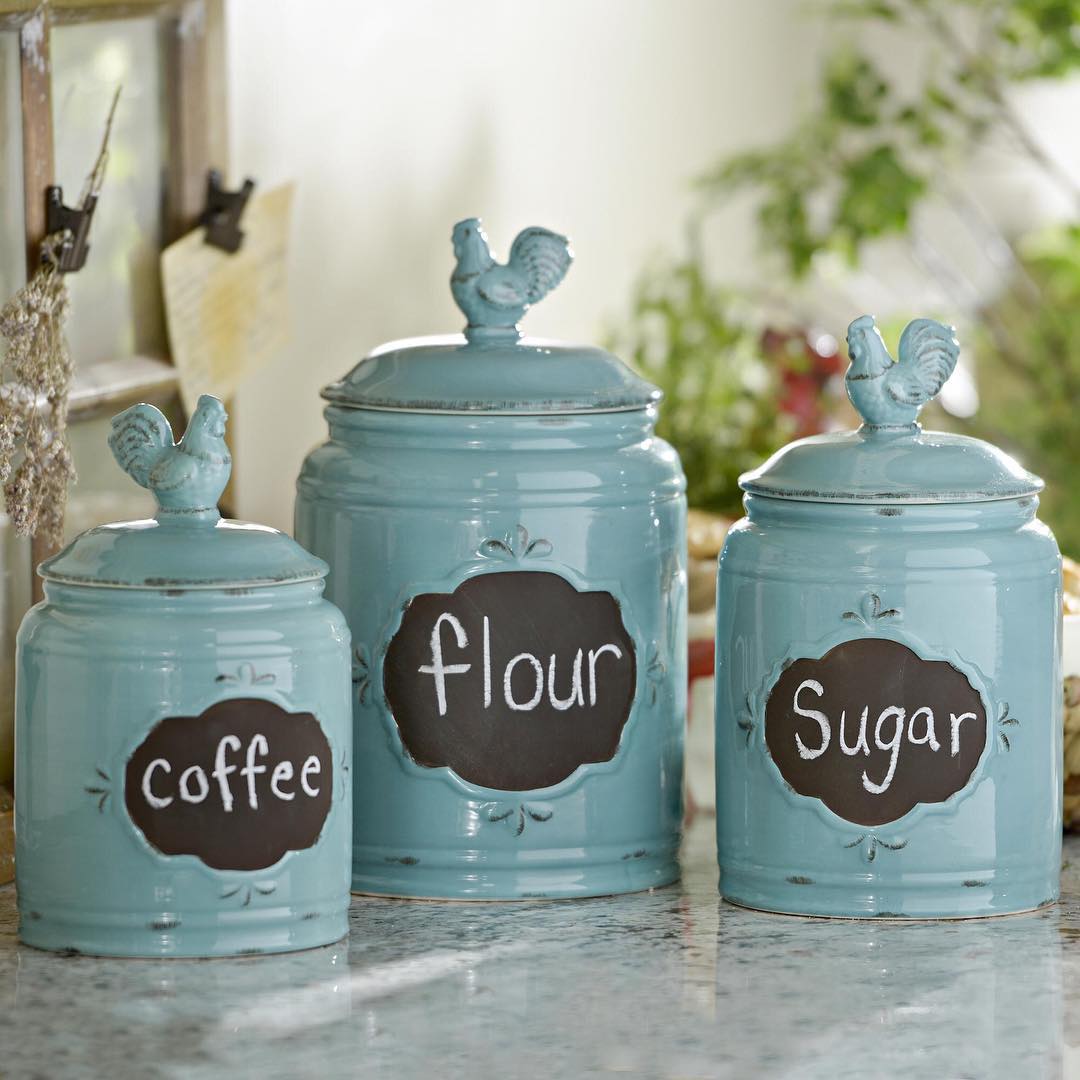 Kitchen canister sets
Keeping your kitchen organized and neat can cut down on wasted time spent looking for, or sorting through things. This can be important when you have children or a generally busy life and want to spend less time in the kitchen and more time elsewhere. I have three young children myself, and I try to keep my house as organized as possible so that I can spend more quality time with them. One of the organizational items I use in my kitchen is the canister set.
My favorite kitchen canister set is the Snapware 60002BXS Square Grip 10-Piece Airtight Dry-Food Canister Set. This canister set is unlike many that I have tried and is great at keeping your food fresh. This set has 10 square shaped canisters with easy to hold handles; and since I use a lot of spices, sugar, and flour in my cooking, it is more convenient to have multiple canisters at my disposal instead of only three or four big ones. Also, these canisters have tight locking lids.
This is very important when you want to keep your spices or food fresh. You would be amazed at how fast food can go bad when even just a little bit of air gets to it. Same thing with spices; they won't go bad per say, but they will loose potency, aroma and quality. These lids stay on strong too, unlike some that will loose fit after continuous snaps. An added plus to this set is the see through design.
These canisters are made of shatter-proof Flexiglass so that you can clearly see what's inside without having to open ones you don't need. And with this great set being shatterproof, you won't have to worry about them breaking easy. In fact, my 3 year old son has dropped them multiple times while helping me cook and they are still holding strong.
These are sold online and possibly in select retailers, and are available at a great price. I would highly recommend this product for anyone looking to purchase a very purposeful, and easy to use kitchen canister set.
Which Canisters For The Kitchen Did You Choose?
Gorgeous Sets Of Canisters For The Kitchen – Decorative & Practical
Looking for a set of Canisters For The Kitchen? Here you will find some gorgeous kitchen canister sets that will serve as functional storage solutions as well as attractive decorative additions to the kitchen counter. These canisters for the kitchen also make a great gift for a newly married couple, or for a housewarming gift. Available in glass, ceramic, stainless steel and other materials, along with many decorative and novelty styles you are sure to find the perfect kitchen storage containers to suit your taste and style.
Clean Looking Glass Canisters For The Kitchen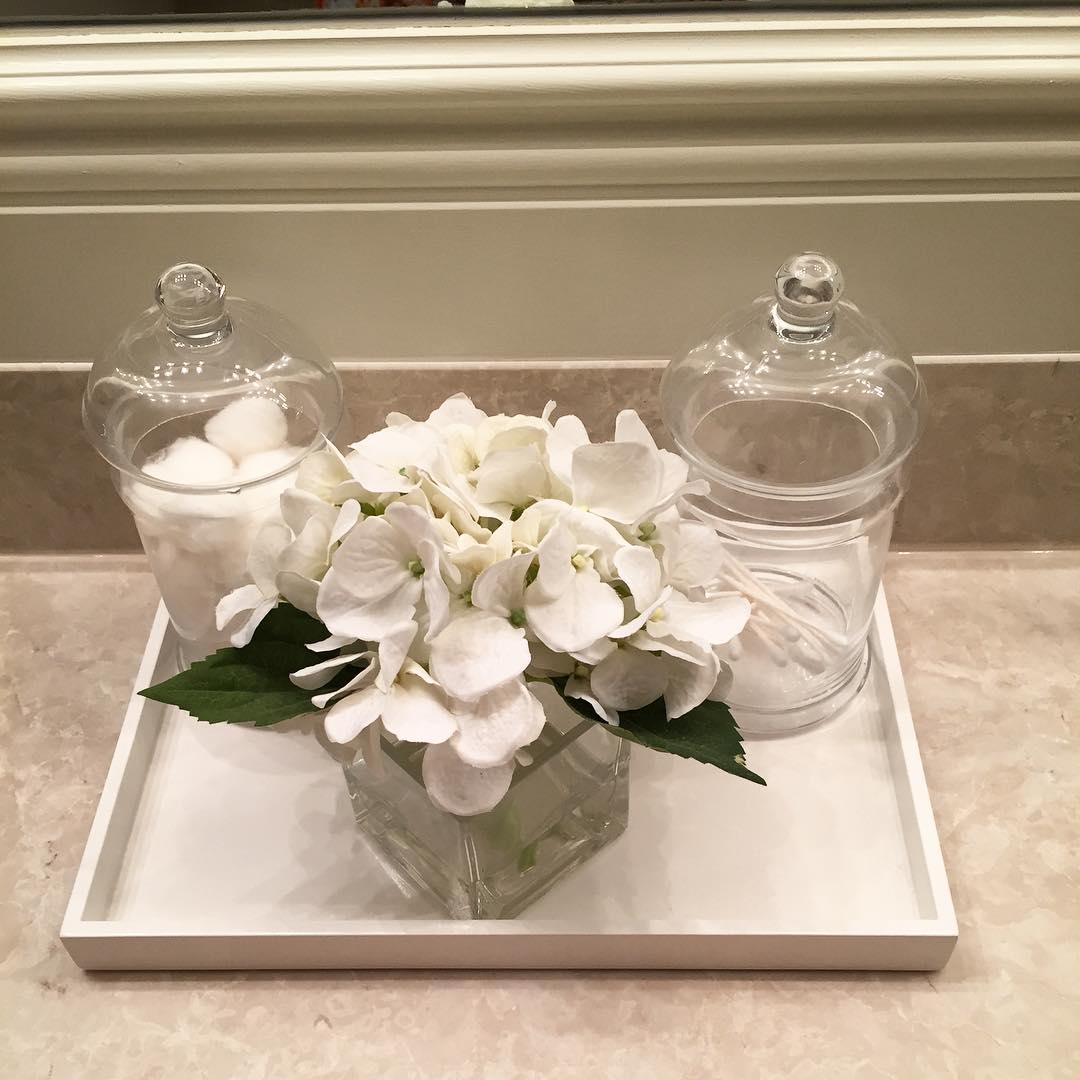 Glass Canisters For The Kitchen are a great way to display all your favorite colors and shapes of pasta, among many other things. Being able to see the contents of your glass canisters at a quick glance is a time saver for the busy cook. Whether you choose clear or colored glass there is no denying that glass canisters for the kitchen are easily cleaned and always look good.
Metal Canisters For The Kitchen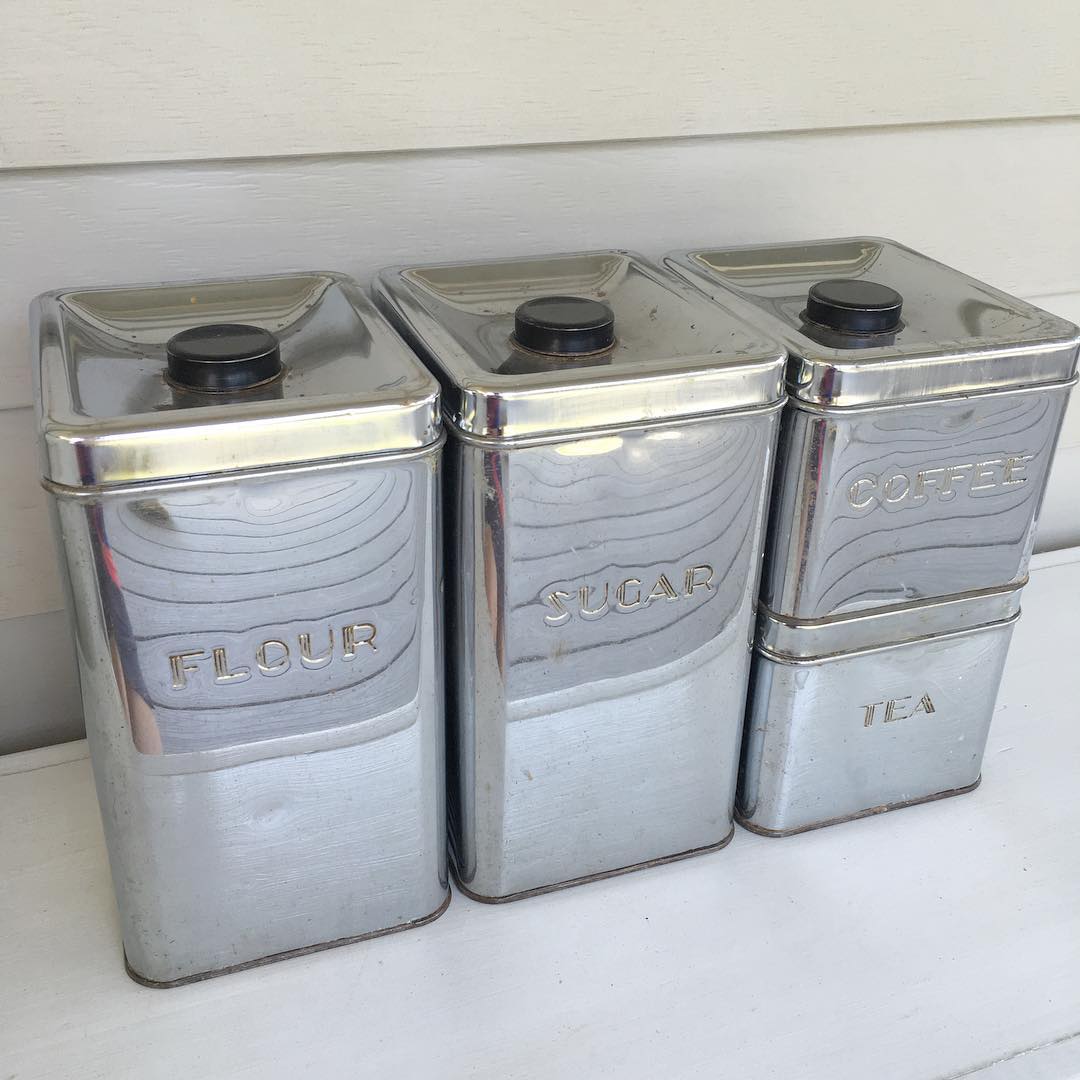 Sleek, Smooth Metal Kitchen Canister Sets For The Modern Kitchen. The sleek styling of these Metal Canisters make them compliment almost any kitchen style. Available in a range of colors, and the ever versatile stainless steel finish.
Ceramic Canister Sets For The Kitchen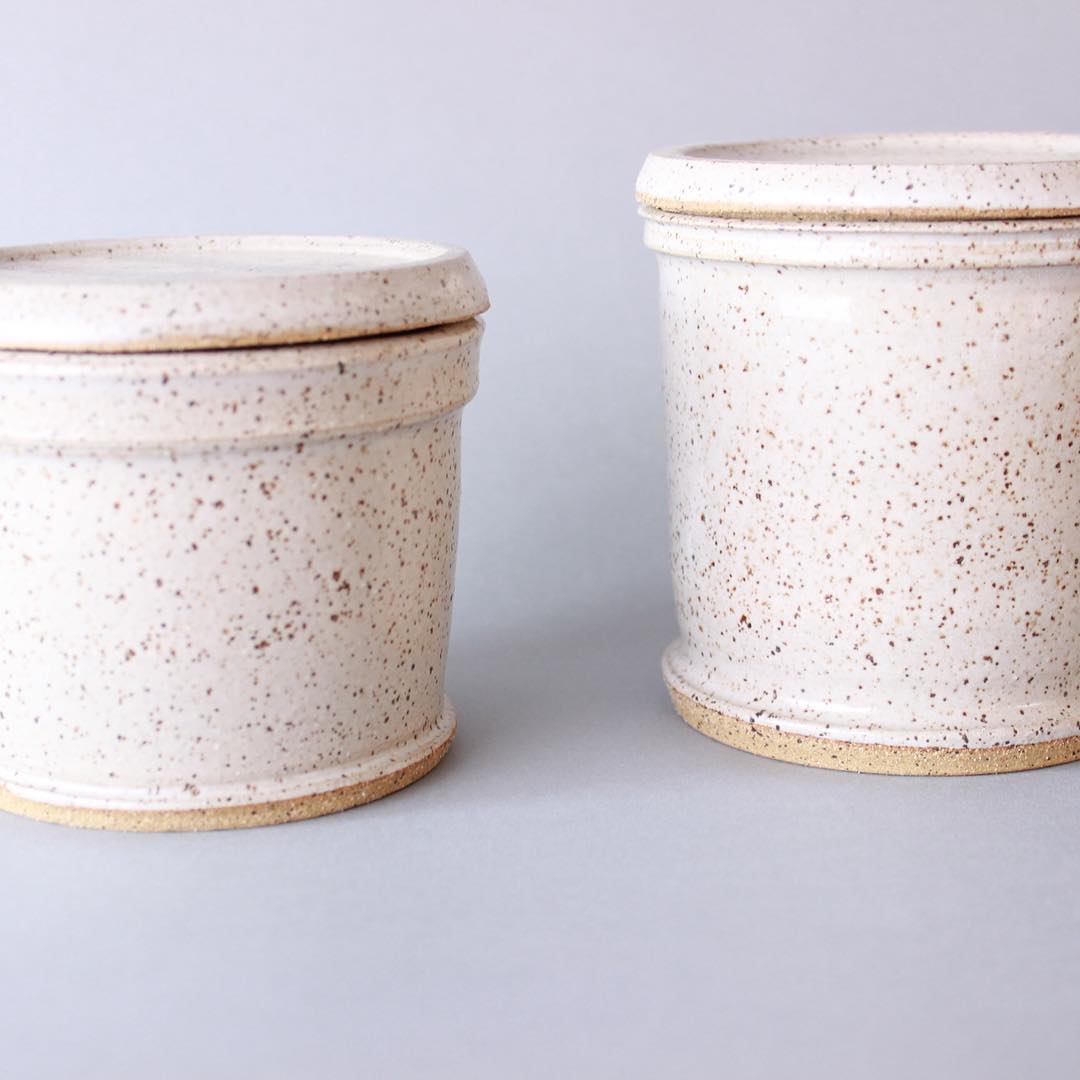 Long Lasting Canisters For The Kitchen In Brilliant Colors. Match your kitchen decor with these beautiful Ceramic Canister Sets and add a dash of pizzazz to your counter tops. Not only decorative, but provides storage for whatever you need handy.
Decorative Kitchen Canisters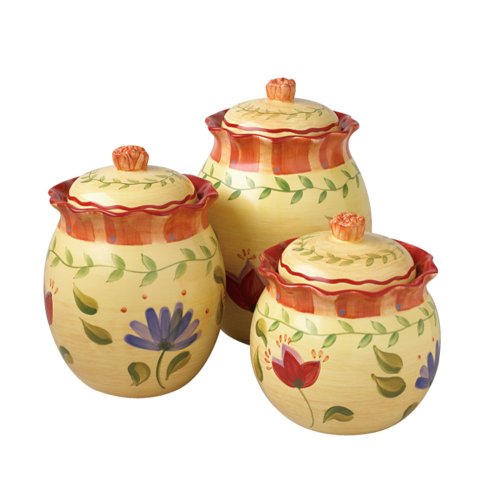 A great decorative accent and organizational tool in your kitchen are Kitchen Canister Sets. By using these decorative kitchen canisters you are keeping your kitchen countertops organized yet you are able to get to your favorites, such as coffee grinds, quickly. There are so many styles, shapes, colors and patterns it can literally boggle the mind. Kitchen canisters are functional as storage, but they can also serve as that special decorative touch that adds some real pop to your kitchen counter. There are lots of fun colors and designs, along with some really strikingly pretty Decorative Kitchen Canisters available to compliment even the most unique kitchen styles.
Novelty Kitchen Canisters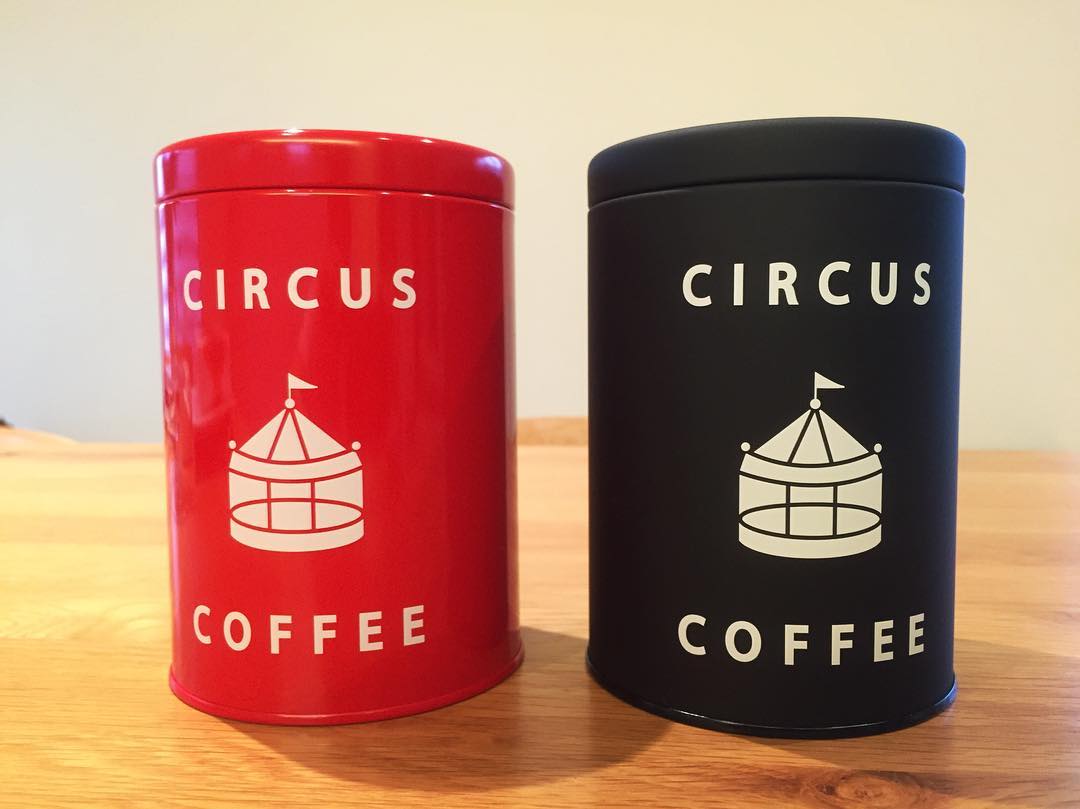 Cool, Fun & Funky Novelty Canisters For The Unique Kitchen. Got an adventurous streak? Know someone that loves those special items that are a bit out of the ordinary? These Decorative Kitchen Canisters make the perfect gift for just that person!
Stainless Steel Canister Set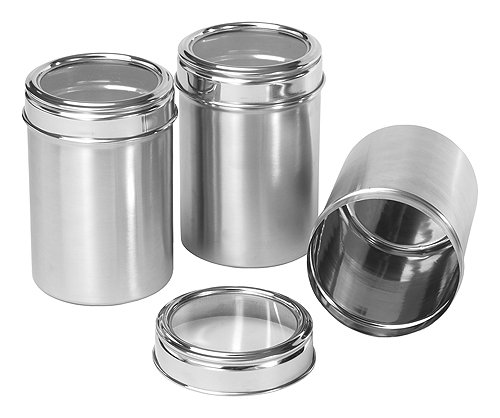 I love stainless steel kitchen accessories and these canisters certainly add a touch of elegance to any kitchen. Stainless steel is so versatile – change your kitchen's color palette and these canisters will stay the course. These 3-pc stainless steel canister sets make a beautiful addition to your counter. They add a functional and attractive means of storage for those things that you use most often. Several different styles are available to suit any taste and give you exactly what you're looking for. You'll find glass bottoms, windowed canisters, and airtight lids among other things. These canisters are just beautiful and will look stunning on your counter. The knobs match the exterior finish and there is a mirrored trim around the top. I have a similar looking utensil holder and the mirrored trim reflects the pattern on our granite counters, making it look like it was tailor made for our kitchen.