Kitchen rugs are a wonderful way to accessorize your kitchen by giving it a finished touch while keeping your floor in good condition. The kitchen is one of the rooms in your home that has a decor style.  It is fun to change the look of your kitchen from time to time with it being such a used and popular room of the house. Changing your kitchens furnishings can update the kitchen giving it a new appearance. This will keep this area of your home exciting and interesting for guest when they come to visit.
How to Select Area Rugs for the Kitchen
Area rugs for the kitchen can be fun to pick out with all the bright colors and designs to choose from. They can make the kitchen a more joyful place to work in with the warm feeling that they can give the room. When buying rugs to go in the kitchen you will need to consider a few things. First, what color do you want your rug to be? It will need to match in with the other things you have in the kitchen. The pattern is something you should give thought to and if the rug will go with the wall color so it will be more noticeable. Choosing patterns that are too busy can sometimes hurt the look of the kitchen giving it a messy look so it is best to stay away from patterns like this.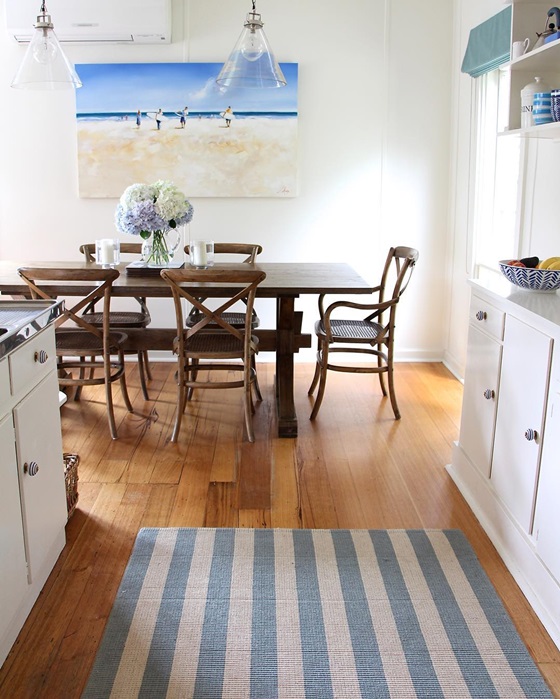 When buying area rugs find out what the cleaning instructions are so that you will know if the rug is right for the kitchen area. Kitchen rugs can get wet and grease spattered on them. Some rugs require less maintenance then others to clean. Most people go for shapes of rugs like oval and rectangular for the kitchen. Oval rugs give a warmer feeling to the area where rectangular rugs offer more of a sophisticated style. It is best to go with the shape rug that fits best into your lifestyle. Buying a rug for the kitchen that is slip resistant is a wise decision to prevent accidents.
Choosing The Right Rug For Your Kitchen
Kitchen rugs are a handy way to add flair to your room as well as providing comfort to your feet or even hiding a worn spot. Whether it is a Country, Contemporary, or a host of other themes, there is a rug to fit any style of decor. Here are some areas that you can use your kitchen rugs.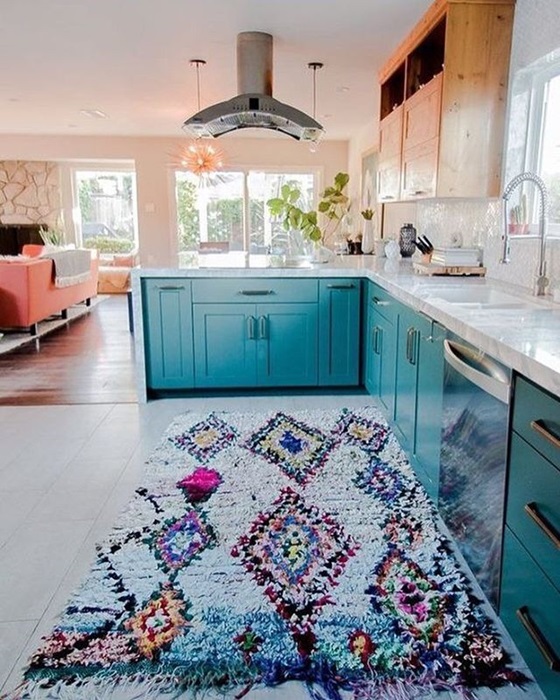 The sink area is a popular choice on where to place a kitchen rug. These rugs add comfort to your feet while adding to your decor. These rugs come in round or oval shaped and in various colors as well as sizes. A theme kitchen rug in the sink area will go very well with a theme kitchen. For example, a fruit theme will go well with a rug the includes fruit.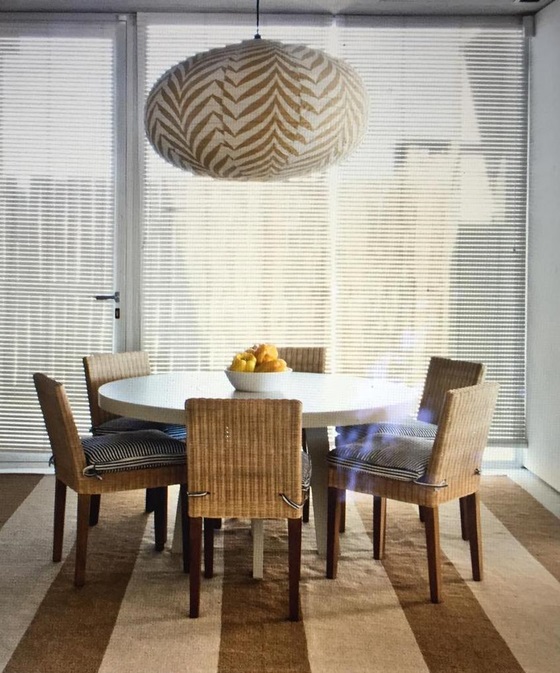 Large kitchen rugs that are placed under the table will make your eating area a focal point. Choosing a rug for this area depends on the table itself.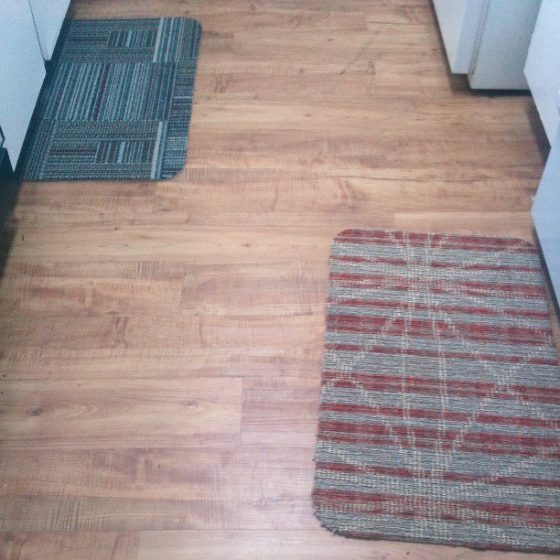 A lot of kitchens have a door from the outside that enters into the kitchen itself. This area will often benefit from a kitchen rug because it can easily be tied to the kitchen's color and theme as well as the rug itself getting noticed upon entering. Even though they do not have to be overly large, they do have to be big enough so guests are able to step onto the mat when entering your home.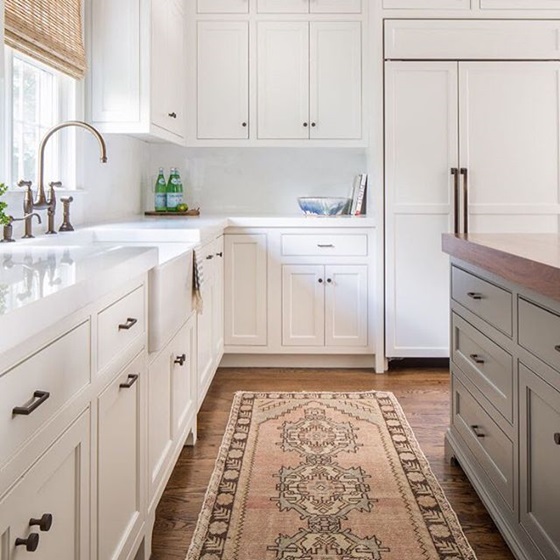 Placing an area rug near your entrance will not only look good, it will also keep dirt and mud from tracking into your home. A rug for your entrance area can be a solid color it can have patterns or it can depict animals or scenery. It can also have it say welcome or perhaps something whimsical such as "Spoiled Rotten Cat Lives Here".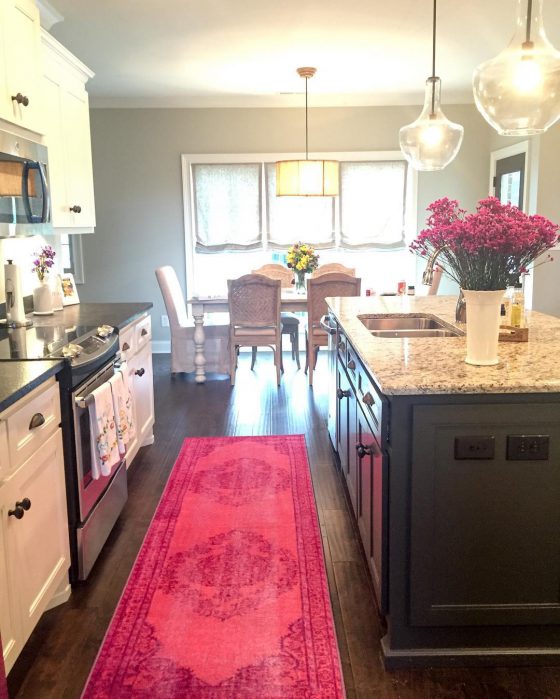 Entrance rugs also come in various sizes and shapes to fit any entrance way. Small entrances can benefit from rectangular shape rugs while oval rugs work great with large entrances.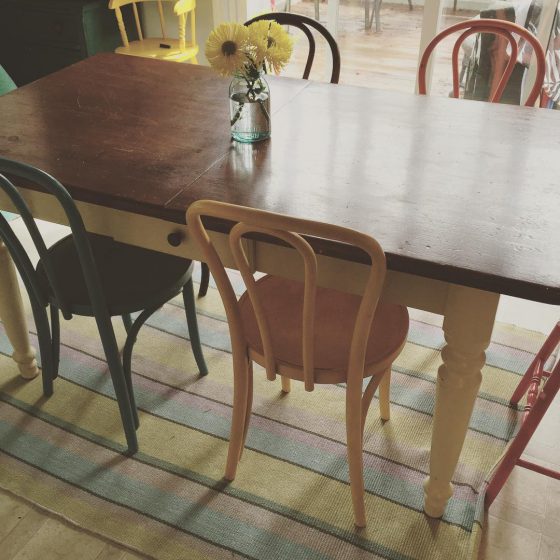 Nooks are also great places to have an area rug; whether it is a simple breakfast nook or bar with high stool style chairs. Runners make the perfect accessory around your nook and they can be placed on one or both sides of it. Runners can also catch crumbs and spills, so it is a good idea to choose one that is easy to vacuum and clean. The length and width of your runner will also depend on your nook area size. If your nook area is large, be sure to stick to your kitchen's theme and choose bold runners to make your nook a focal point.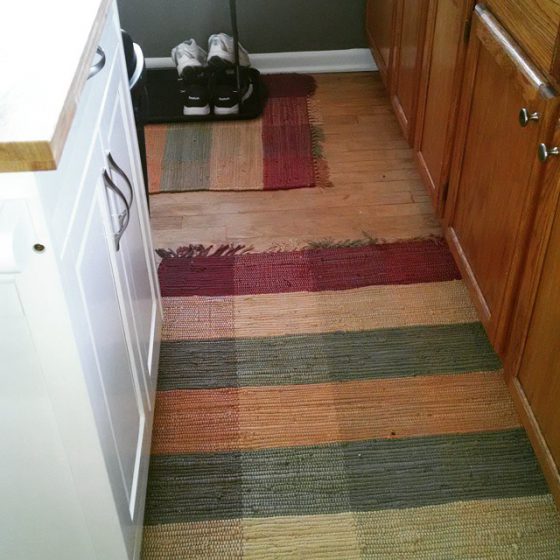 Listed below are some kitchen rugs that will look absolutely magnificent on floors. Take a peek and maybe you will find something that will compliment your home style.
Washable Kitchen Rugs
Washable Kitchen Rugs are wonderful in any room where you need to have machine washable rugs or machine washable area rugs. You will want these in heavy traffic areas, entry halls, or where you rest your feet when you get in or out of bed, where you stand to do dishes, and to decorate any place you want to have an area defined but still have the convenience of a machine washable rug or machine washable area rug.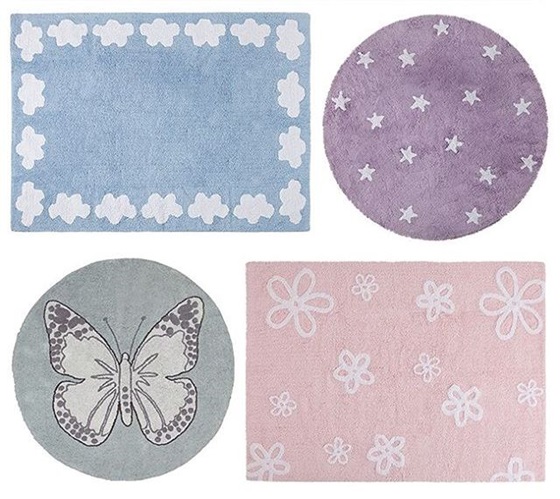 Washable kitchen rugs can be a great way to add holiday or seasonal touches to any room and you will have them for years to come when you use them in seasonal décor. If you are looking to protect your hardwood floors, then a washable kitchen rug is for you. Washable Kitchen rugs are great for soaking up spills and it's also a great way to tie in your whole kitchen theme. But kitchen rugs are not only great for the kitchen, but throughout the entire house as well.
Machine Washable Rugs – Give Your Kitchen Great Decorative Rugs
When you buy machine washable rugs you are giving yourself not only great décor touches, but with the added enjoyment you will gain from being able to toss them into the washer when ever you want.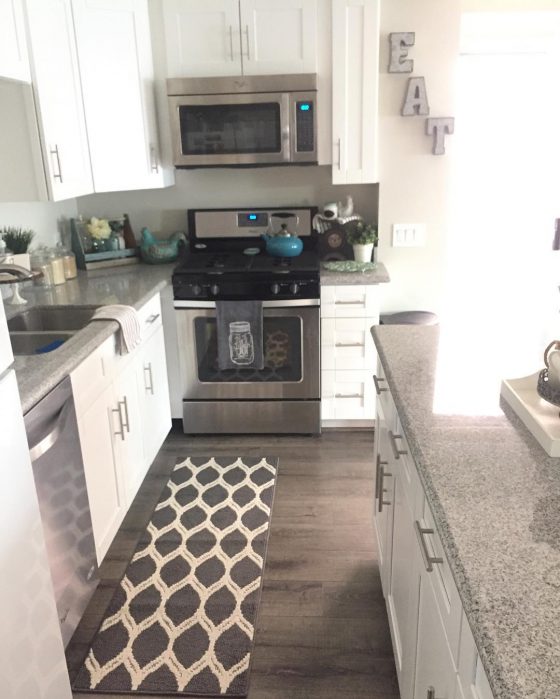 Keeping your décor fresh and keeping your home cleaner than you would expect from other rugs which can only be taken outside the old fashion way of cleaning with a vacuum. Like many rugs you will find they can be functional and take less fuss to clean because they are machine washable.
Machine Washable Area Rugs
Kitchen Décor With Less Fuss
There are many areas where a machine washable area rug is a great idea. When you have pets, or when you want to have a great rug in front of the door or the sink. They will also be a great accent for your areas where you put your trash, your portable storage furnishings, or under the kitchen table.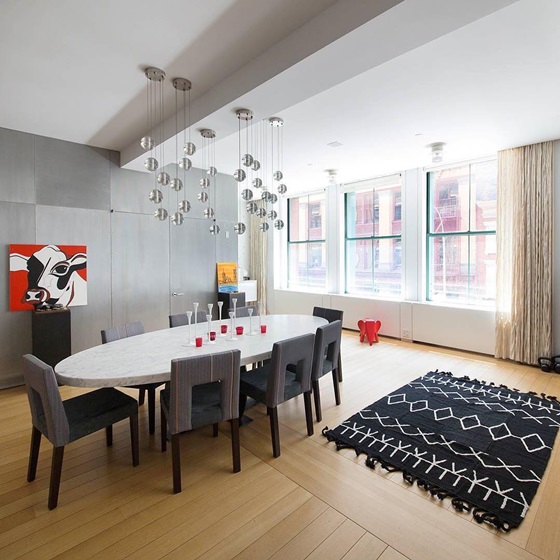 Other rugs are not suitable to place under the kitchen table because they are not washable, and no matter how neat and tidy your lifestyle is, you will find the vacuum cleaner is only a temporary option, as there are times when a good washable area rug is the best investment you can make for your kitchen.
Vintage Kitchen Rugs
This Handmade vintage rug is perfect for any kitchen with hardwood floors and red accents. This kitchen rug is made from Naturalized Olefin yard, stain and fade resistant and highly durable. Perfect size to fit in front of the kitchen sink. A great way to give you kitchen a new look is by adding a few kitchen rugs on the floor.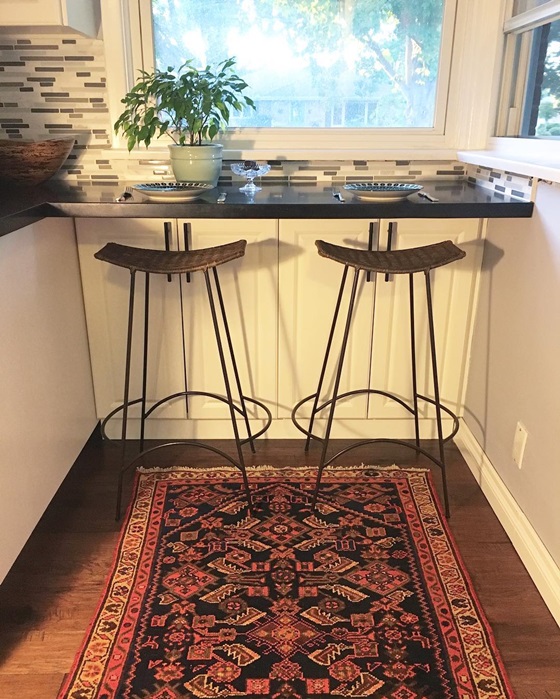 You can choose from many styles, sizes, colors and patterns that will enhance and brighten up your kitchen space. Rugs have to be one of the easiest and most inexpensive fixes for any room of the home. All you need to do is find the rugs you like and get the best deal on them. The internet is a great place to shop for any type of area rugs for the home.
Rooster area rugs for kitchen
Bright, decorative, and functional, Rooster Kitchen Rugs will make you smile! The colorful selections we have gathered will help you begin, continue or complete a Rooster theme in your kitchen.If you enjoy the countryside theme to your kitchen, then using rooster kitchen rugs is a great way to add warmth, brightness and originality to your kitchen and your hardwood floors.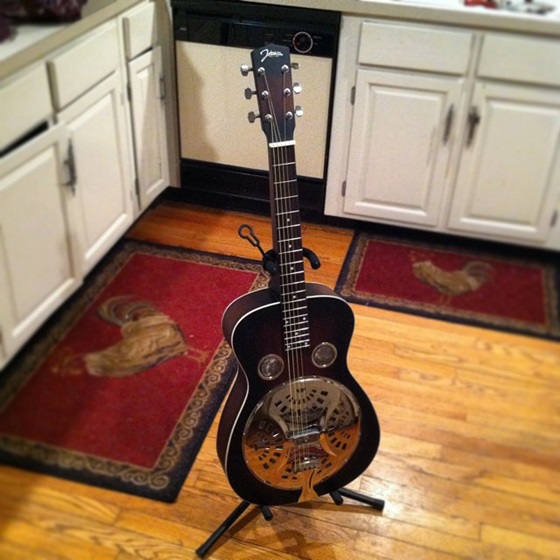 Do you need a small rug or Rooster Kitchen Mat in front of the sink for comfort while working there? Or do you need a medium sized rug for emphasis in another area? Perhaps you wish to accent the table and chairs in your kitchen with a rooster bordered rug!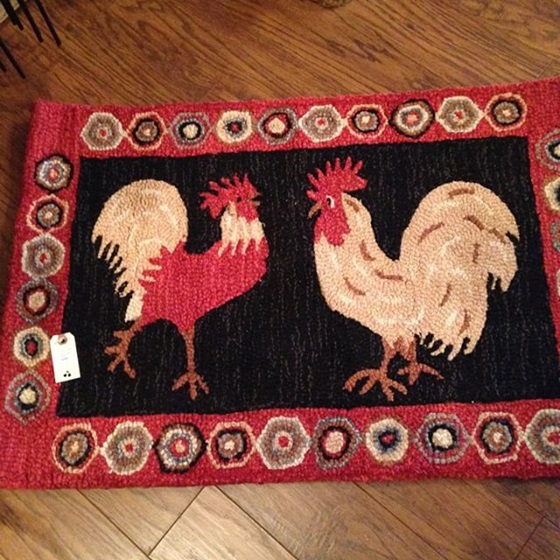 Red rooster kitchen rug is perfect under your sink. Rest your feet and relax while you are washing dishes or preparing food in your rooster kitchen.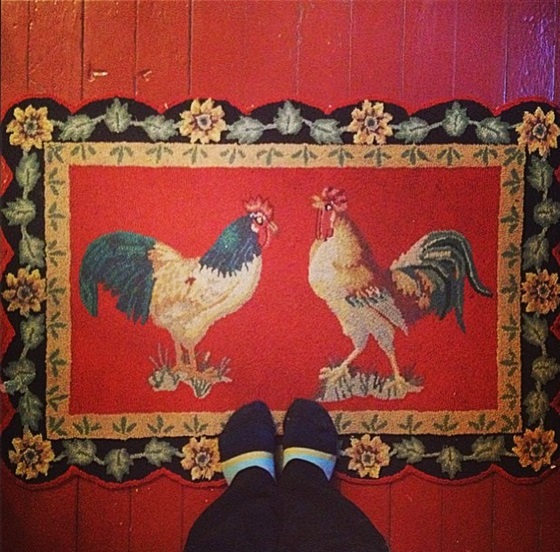 Deep color tones in this detailed rug will make an eating or sitting room in your kitchen area pop with style. And if your kitchen is red and white, as so many are today, this rooster will be perfect!
Kitchen area rugs for hardwood floors
Rugs are not only functional – they are a fashion accessory, an addition to your home's decor. They protect your hardwood floors while they brighten up your home. A well-maintained hardwood floor, after all, can last a lifetime, and even significantly increase the value of your home.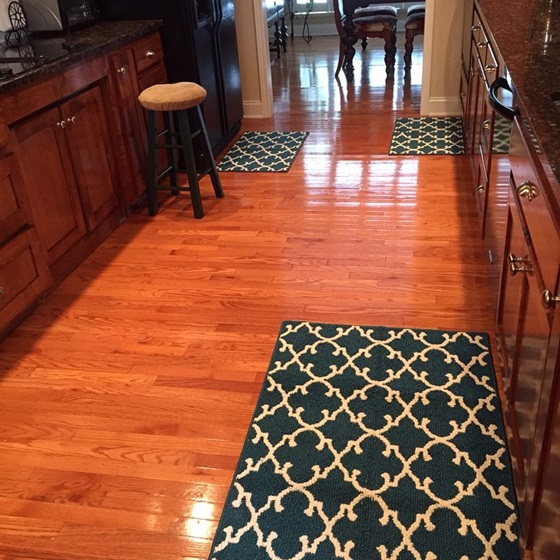 Using rugs as your source of decor also mean that changing your house's look is as easy as finding new rugs, rather than re-doing your entire floor. Rugs can also protect your feet if your hardwood has rough surfaces or splintering. High traffic places in your kitchen can also be worn down by feet over time, and putting a rug over these areas can protect them from the wearing down over time.