Wood flooring is a beautiful addition to any kitchen, adding a layer of sophistication to modern design. But what kind of wood is best for such a messy, high-traffic area of the house?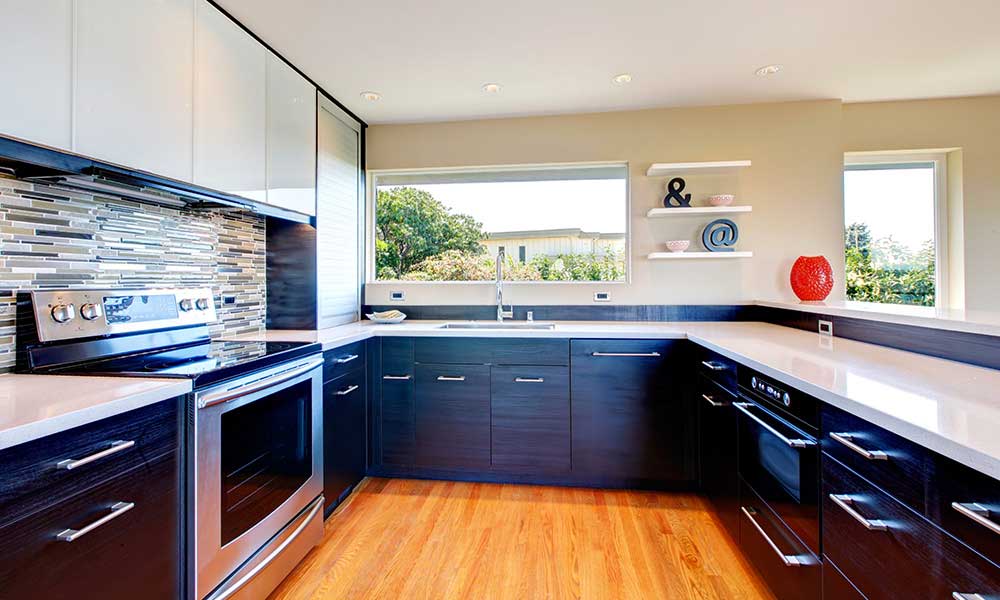 If you're scared of warping wood floors from high humidity or scratches and dents, fear not – there are ways to install a wood floor in your kitchen and make it last years.
Finish
In this particular aspect, you have a few options to choose from.
Polyurethane is particularly durable and easy to apply, which comes in water or oil-based. While the water-based type dries more quickly, it's not as long-lasting. Also, keep in mind that it's best to apply two or three thin coats as opposed to one thick one.
Penetrating sealer stains and seals wood all in one go. It's as easy to apply as brushing it on, allowing it to soak through, and wiping off the excess.
A varnish is the most durable of finishes, but if you're someone who isn't a fan of yellow-tinted wood, then you might want to skip this one.
Wax is terrific if you want to give your flooring that attractive, lustrous finish every homeowner desires. However, be wary – wax isn't as durable as varnish, for example, but it is a bit of a chore to strip it off.
Sheen
Some homeowners get the terms "sheen" and "finish" confused, but sheen simply describes the overall glossiness of your finish. Most finishes come in matte, glossy, semi-gloss, and satin.
The most popular option with homeowners seems to be satin probably because it's reflective without being overly shiny. Plus, it's less likely to show dirt or scuff marks.
Species
Interior designers tend to recommend that hardwood species such as oak and maple due to their density. As opposed to soft woods like pine, they are harder to damage over time, especially in a high-traffic area like the kitchen.
Another feature of the wood species to look out for is the grain type. Some woods have beautiful, fine grain, but they may show off dirt more than wood with a grain that is straight and coarse.
Be aware that imported hardwood like mahogany is going to cost you more than native species like oak, and if you're on a budget, then softer woods will be your best deal.
Upkeep
In general, upkeep is fairly simple with some extra precautions to heed if you want to keep your wood floor looking like new.
Anything spilled on a wood floor needs to be cleaned immediately with a damp mop (read: damp, not soaked!). Since it's a kitchen, spills will be a common occurrence, so if you're particularly clumsy, this might end up being a lot of work.
When vacuuming, use only the floor setting, and sweep with an angled broom with soft bristles. Angles allow the broom to reach tight corners, and the soft bristles won't scratch up the floor.
Wood Types
Engineered wood is made of layers of inferior wood with a top veneer of quality wood. The layers are pressure glued together to make them very strong.
A solid wood floor, as the name suggests, consists of a single piece of high-quality wood. Solid wood and engineered flooring require the same care instructions, but the big difference is that the latter can't be refinished as often.
Laminate is a faux wood flooring made of fiberboard coated with melamine. Despite the artificial materials, the best brands mimic the appearance very convincingly. And the best part is that they're completely stain- and scratch-resistant.
Heather Lomax is a contributing writer and media relations specialist for Garden State Tile. She writes for a variety of home and design blogs, offering tips on how to make your house into a (dream) home.